CMT ARTISTS OF THE YEAR: (WATCH) Alan Jackson Takes The Stage, Proves He's Artist of a Lifetime
Alan Jackson believes he was the first action video artist, and he's made about 60 music videos.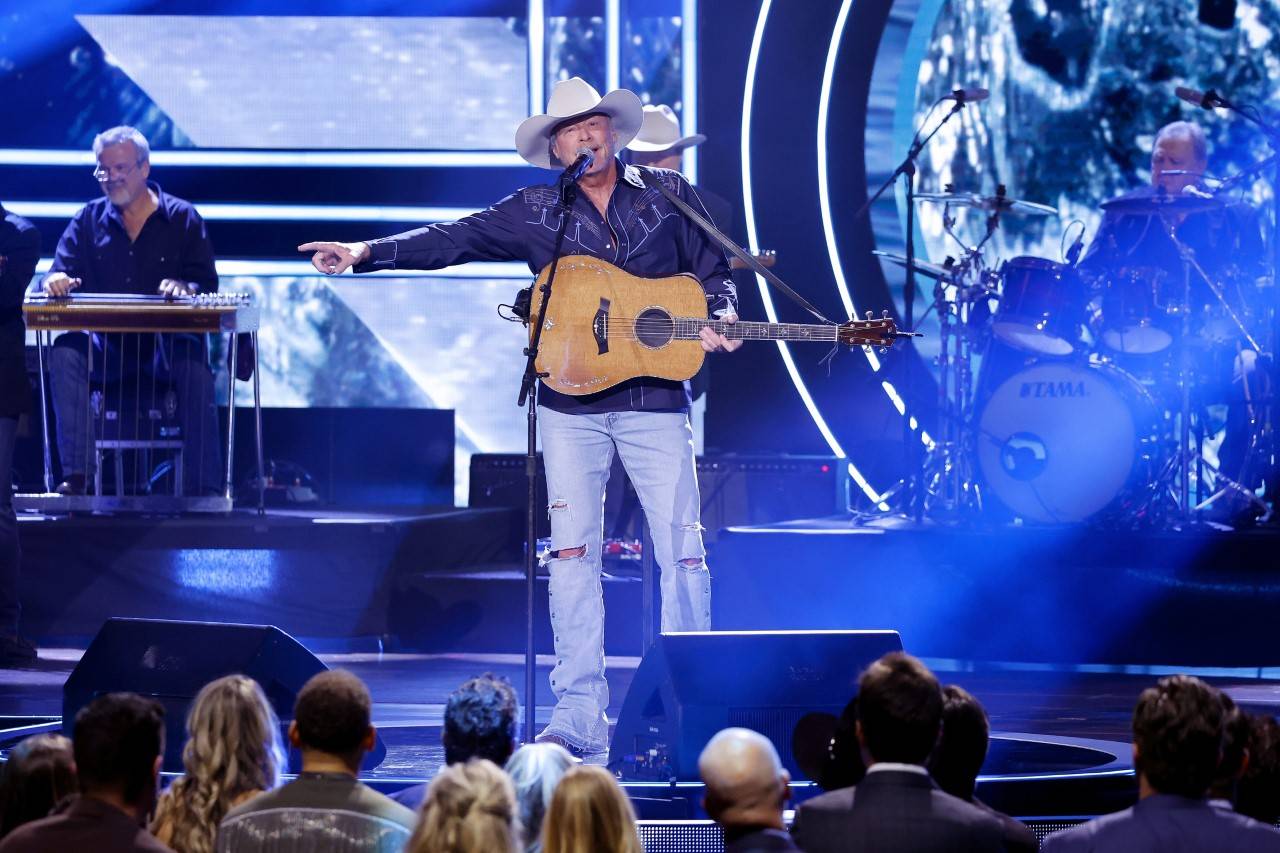 Wearing his trademark hat, jeans and boots, Alan Jackson strode across the stage at Nashville's Schermerhorn Symphony Center and stepped up to the podium to wildly enthusiastic applause. Jackson was there to accept the Artist of a Lifetime honor from CMT during the 2022 CMT Artist of the Year ceremony. The night's other honorees, Kane Brown, Walker Hayes, Carly Pearce, Lainey Wilson and Cody Johnson, were just thrilled to see Jackson. (Luke Combs was also honored but wasn't in attendance.)
The 2022 CMT Artist of the Year ceremony will air 9p/8c Friday on CMT, with an encore showing immediately following. Each honoree, with the exception of Combs, performed.
"I'm probably more excited to see Alan Jackson than I am to play," Johnson said, explaining that Jackson's career has been a guiding force for him.
Jackson is a member of the Country Music Hall of Fame and is a Songwriters Hall of Fame inductee. His three-decade career has spun 35 No. 1 songs, including "Chasin' That Neon Rainbow," "Chattahoochee" and "Don't Rock The Jukebox." The Georgia native racked up nearly 60 million in sales worldwide.
"I think I've made more videos than anybody in the world," Jackson said as the audience laughed. "I think I made about 60 of them. After 'Chattahoochee,' I was the first action video artist, I believe."
Jackson referenced videos where he drove trucks in the mud, raced progressional race cars and jumped a monster truck over six automobiles.
"I did all these things," he continued. "I sang on top of skyscrapers. I've done about everything. I always believed that videos are important to music."
The singer said he's always thought that fans play CMT in the background as they're doing other things, so music videos give songs a chance to be heard in more places than just on country radio.
Jackson told a story about meeting a bartender in the Bahamas on a fishing trip. The man was singing Jackson's deep album cuts and big hits at the top of his lungs, and Jackson was amused.
"I thought that was so unusual," Jackson said. "I said, 'Man, where are you listening to all those songs? I haven't listened to some of those myself in years."
The bartender told Jackson he found them on the computer and CMT.
"It made me realize then that people who don't have country radio can find those videos, and all that work I did for all those years has paid off," Jackson said. "God bless CMT and all those people out there. Thank you so much!"
Following his speech, Jackson retook the stage for a rousing version of fan favorite "Chattahoochee." The audience was on its feet, clapping and singing along as Jackson performed with a voice as rich, strong and distinguishable as it was in the 1990s. He peppered some humor into his energetic performance and was rewarded with the longest standing ovation of the night.
As part of the event, CMT (Country Music Television) donated to the American Red Cross and The Charcot-Marie-Tooth Research Foundation in each honoree's name (Jackson lives with Charcot-Marie-Tooth, a degenerative nerve condition that impacts the peripheral nervous system and causes balance problems). CMTRF is the only nonprofit organization focused on delivering treatments and cures for Charcot-Marie-Tooth disease (CMT). Fans who would like to support their efforts can visit cmtrf.org/lastcall; donations will be matched up to $250k by an anonymous donor.
Jackson doesn't want people to think that CMT spells the end of his career.
Artists previously named CMT Artist of a Lifetime include Randy Travis (2021), Reba McEntire (2019), Loretta Lynn (2018), Shania Twain (2016), Kenny Rogers (2015) and Merle Haggard (2014).
An immediate encore showing will follow at 11p/10c (Oct. 14) and on Sunday, October 16, at 8p/7c.