CMT Artists Of The Year: (WATCH) Peggy Sue Wright And Crystal Gayle Pay Tribute To Their Late Sister Loretta Lynn With An Emotional Performance Of "Coal Miner's Daughter"
Crystal Gayle: "The world lost a legend. We lost a sister."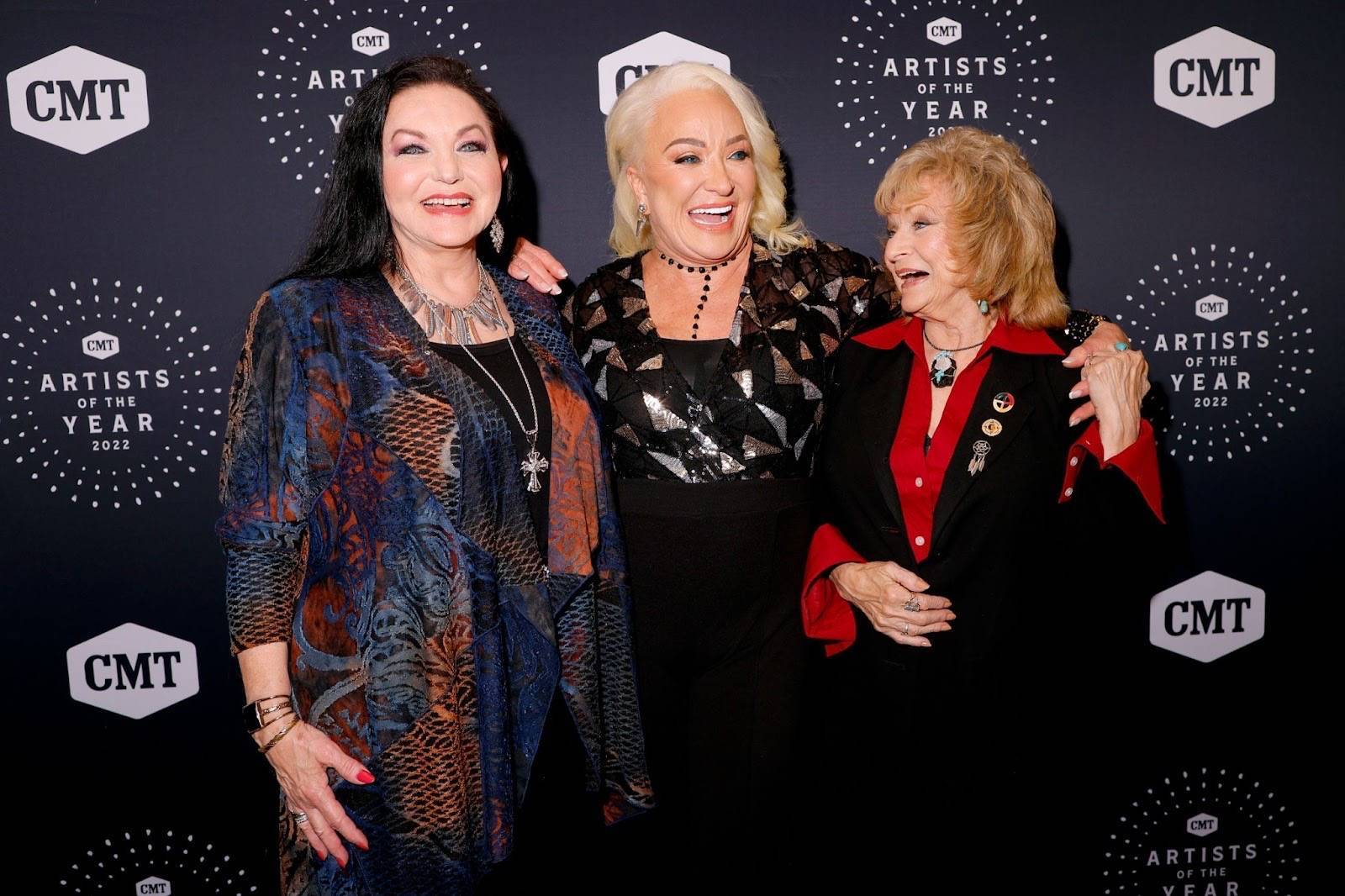 The country community is mourning the loss of its resilient queen – Loretta Lynn. It's been over a week since the late legend gained her wings and joined other "Honky Tonk Angels" at the age of 90.
Prominent names in the genre gathered at Nashville's Schermerhorn Symphony Center [Oct. 14] for CMT's Artists of The Year ceremony and to pay respect to the fearless pioneer that changed the trajectory for women in country music.
There was not a dry eye in the house when Loretta Lynn's sisters stepped into the spotlight to honor their beloved sibling and to deliver her timeless tune "Coal Miner's Daughter." Once Peggy Sue Wright and Crystal Gayle appeared – Lynn's loving spirit filled the room, leaving nothing but joy radiating from the stage.
'90s icon and female trailblazer Martina McBride kicked off the celebration of life with a well-spoken speech that acknowledged Lynn's significant contributions to the landscape. The "Independence Day" artist touched upon Lynn's storytelling approach and how she fearlessly sparked difficult dialogues by writing about sex, love, divorce, and contraception. In the midst of her prime, country radio banned the progressive lyrics in "The Pill" or self-worth anthem "Rated X" from their airwaves. Despite the backlash, Lynn persevered forward and never stopped singing her truth.
"She was ahead of her time and paved the trail for all of us women in country music. She wrote her own songs at a time, and that was not the norm. She sang about things no one else dared to sing about – giving a voice to a whole generation of women," explained McBride. "She sang feminist anthems, politically charged songs on songs of heartbreak, struggles, cheating, and desire, feisty songs about standing your ground, songs about her childhood and family, songs that women could relate. She wrote music so personal that you could hardly imagine anyone else singing. And maybe the most remarkable thing about her, and there were a lot of remarkable things about her, was the way she met us and made us artists feel."
McBride praised Lynn's heart of gold and sincere character. The icon is one of the very few that became a recipient of the CMT Artist of a Lifetime award. Lynn received the prestigious accolade in 2018, and McBride admired the powerhouse with a chilling rendition of "You Ain't Woman Enough (To Take My Man)."
"She was always there for us, lifting us up, mentoring us, urging us to come see her. She was warm and sassy and so real, and that laugh, that smile. I don't think you would ever meet anyone who didn't love her. What a legacy that is. Loretta left an indelible mark on country music and is one of the most iconic female artists in country history and one of the most important and inspirational figures in all of music period. Tonight, we honor her in every performance, in every moment of this show. Loretta, thank you…we love you."
To add to the tribute, outlaw country star and Lynn's close friend Tanya Tucker shared how the singer-songwriter played a vital role in her life.
"I've been so blessed with the gift of her music and also the gift of her friendship. She guided me through this business," uttered Tucker while holding back tears. "Even before we met, I remember me and my dad would watch her every Thursday night on the 'The Wilburn Brothers Show,' and he'd say, 'Tanya, ain't she beautiful?' I always looked up to her, and I always will. That will never change."
Tucker continued to reflect on their tight-knit relationship.
"I grew up singing her drinking cheating songs. I really treasure the time that we got to spend together. She would call me, and she'd say, 'Honey, you need some money?' Well, there've been times I wish I said yes," she jokingly laughed. "She went from being my hero, to being my truly great friend and then back to being my hero again. I miss you already," she added before welcoming Lynn's sisters.
On cue, Gayle and Sue exploded into the old-school classic without missing a beat. They encouraged attendees to sing along to one of Lynn's biggest hits, "Coal Minder's Daughter," a 1969 melody that chronicles her upbringing in the bluegrass state of Kentucky.
"We were poor, but we had love | That's the one thing Daddy made sure of | He shoveled coal to make a poor man's dollar," belted the two with emotion in their voice.
Black and white footage emerged on the big screens behind them as they delivered the track that propelled Lynn to stardom in the sixties. The clips feature monumental moments throughout Lynn's flourishing career, from successful award shows to jaw-dropping performances. Lynn was the second oldest of her seven siblings, but not the only one who pursued a career in the entertainment industry. Sue and Gayle made their musical family proud, by placing their old-world sound on full display. Although Gayle has trailed behind Lynn, she has also left a significant mark on the genre with a GRAMMY win, multiple ACM Awards, and was previously named one of the "greatest women of country music" by CMT.
The harmony-driven act received a respectful round of applause and an instant standing ovation. Lynn passed away peacefully on Tuesday, Oct 4, at her ranch in Tennessee. During a private ceremony, the pioneer was laid to rest later that week on her Hurricane Mills estate.
CMT Artists of The Year aired on Friday, Oct. 14 at 9P/8C on CMT. An immediate encore showing will follow at 11p/10c and on Sunday, October 16, at 8p/7c.