2023 CMT Music Awards: Wynonna Judd Honors Her Late Mother, Naomi Judd: "Mama, You Need to Be Here Tonight"
Ashley McBryde joined Judd for a powerful cover of Foreigner's "I Want to Know What Love Is."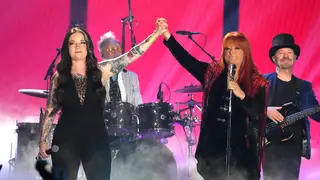 Wynonna Judd honored her late mother, Naomi Judd, with a powerful performance at the 2023 CMT Music Awards.
A year after Wynonna and Naomi Judd shared the stage at the 2022 CMT Music Awards, in what would be the final television performance for the mother-daughter duo, Judd returned to the CMT Music Awards this year, but she wouldn't have to face the audience alone.
Surrounded by lights in the shape of church windows, Judd covered the '80s classic, "I Want to Know What Love Is," by Foreigner. Her tourmate from last year, Ashley McBryde, eventually joined her onstage, as the two sang the rousing chorus together.
The two powerhouse vocalists brought the audience to their feet, and during the climax of the song, the stage lit up in a blaze of fire behind them, with Judd pointing to the sky, saying, "Mama, you need to be here tonight... I miss you and I love you, and I don't understand."
They finished the song holding each other's hands high in solidarity.
Earlier this week, when asked how she felt about her upcoming performance, Judd said: "Oh, I am nervous. I think it's the unknown. You know, you get so set in your ways and you get so you get things a certain way and you like it and then somebody comes along and just knocks it all down. And that's what Ashley's supposed to do," she told CMT. 
"She's supposed to get in my face and gimme a run for my money and I'm supposed to push back and there's gonna be a rivalry. But it's the kind of rivalry where we adore each other. I really do love Ashley," Judd explained. "It's not just a performance either. We have been on tour together and so we got to know each other pretty intimately. Musically, we got to sing from our toenails together. So this is just an extension of that passion."
When it came to singing on TV with Judd, McBryde said: "I've sung with Wynonna. I I've probably done what eight shows, nine shows with her, but I've never done any of 'em on tv. This has been nerve-wracking. I've listened to that song. I don't know, 10 times today," McBryde told CMT earlier this week during rehearsals.
"She has everybody on the planet to choose from. She's such a wonderful spirit to be around and she's just such a talent. She's a vocal beast. She really is," McBryde continued. "And of course, all of us that were on tour with her this last year, so for her to say she wants me to come sing with her on the show, I was like, I don't even have to hear the rest of the question. I just say, 'Yes. What song? Tell me what part I'm singing. I'm on it.'"