2023 CMT Music Awards: Kelsea Ballerini Queens Out With 'RuPaul's Drag Race' Royalty
The fierce foursome joined Ballerini for a performance of "If You Go Down (I'm Goin' Down Too)."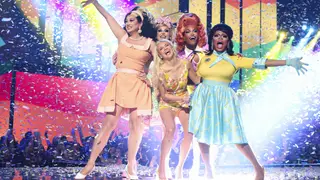 Category is: Serving CMT Music Awards realness!
Kelsea Ballerini returned as co-host for this year's CMT Music Awards, and as if she wasn't busy enough sharing hosting duties with Kane Brown, she also treated the audience to a live performance during the telecast.
Ballerini sang her new single, "If You Go Down (I'm Goin' Down Too)," on a set recreating the track's candy-colored music video, inspired by The Stepford Wives and Don't Worry Darling.
CMT also rolled out the astroturf for RuPaul's Drag Race royalty, Manila Luzon, Jan, Kennedy Davenport, and Olivia Lux, who joined Ballerini onstage.
The queens stayed behind her as she played her pink guitar, but later in the performance, the fierce foursome helped take off Ballerini's green jacket for a fashion reveal, and the five of them then sashayed down a catwalk, out into the audience as confetti rained down.
After the performance was over, Ballerini hugged the Drag Race glamazons as the audience roared.
"'If You Go Down' is a song originally about female friendship and the pillar people in my life that have gotten me through. In this last season of my life, I've reshifted the importance of that," Ballerini told CMT earlier this week. "I wouldn't have gotten through this last season of my life without my friends. And now I'm realizing that it's much broader than that. It's a song that can be about what you stand for and who you stand with, and saying, 'I am ride or die for you. And if you go down, I'm going down too.'"
Ballerini knew she was making a statement with her drag queen co-stars, since a bill banning drag was recently passed in Tennessee, but when asked about it, the "Subject to Change" singer said: "I hate that it's a statement. I wish that it was just an element of performance and celebration like it always has been. But I'm happy to make that statement."