Garth Brooks Inducts Jon Pardi Into The Grand Ole Opry
Jon Pardi: "It's full circle to watch my hero, from flying around an arena in concert to right now. I love the Opry and being a part of its family. The future is so bright."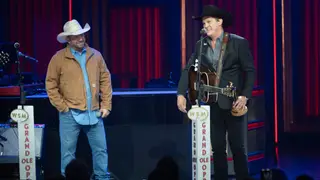 Jon Pardi has long namechecked Garth Brooks, Alan Jackson and George Strait as his heroes, so it was significant to him when Brooks surprised him at the Grand Ole Opry Tuesday night to induct him as the Opry's newest member. Jackson shocked him with an invitation to join the hallowed radio show earlier this year.
"It is cool to have two of your heroes kind of make it happen, from Alan Jackson to Garth Brooks, and I always think about what my eight-year-old self would think about that," Pardi said.
The Tuesday night Opry moment came when Brooks strolled on stage and said: "This is me and you joined in holy matrimony shared by our love of country music. Are you prepared for this? Because now we got each other's back."
As he inducted him into the Grand Ole Opry, Brooks told Pardi there would come a time when "your ass needs saving." Brooks said there'd also be a time when his ass needed saving.
"I'm depending on you to do it," Brooks said.
"I got you," Pardi replied. "It's full circle to watch my hero, from flying around an arena in concert to right now," said Pardi. "I love the Opry and being a part of its family. The future is so bright."
Pardi, who has had hit songs including "Dirt On My Boots," "Last Night Lonely" and "Heartache Medication," is the first native Californian to be inducted into the Grand Ole Opry.
Before his induction, Pardi remembered the drive to the Opry for his first performance on the famed stage. Pardi was still playing at Losers in Nashville when the invite came for him to make his debut. He rented a stretch Hummer limousine with his mother.
"I was like, man, we've got to take a limo to Grand Ole Opry! We're doing it, Mom, we're doing it!" he said.
More than a decade later, he was inducted.
 "Tonight, I feel like I'll be one of those marks on that floor," he said. "And I think that's a good feeling. There's a lot of marks on that floor. And to just have one it represents me and my career and my family and my mind and what I think of country music and what I've tried to (bring) to country music over the years. I feel like that is what the circle is going to mean tonight for me, of being nervous. Every time I get into the circle now, I get to kind of feel like nervous and a part of it."
Pardi's Opry induction and performance will air as a Saturday night Opry Live on November 18 on the Opry's television broadcast home, Circle Network, Circle All Access Facebook, Twitter and YouTube.