David Lee Murphy and Kenny Chesney Toast "Everything's Gonna Be Alright" in Nashville
Celebrate with Murphy's Co-writers Chris Stevens and Jimmy Yeary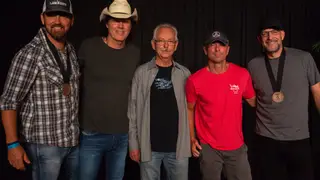 There's a common understanding in the Nashville music industry that if you're not uplifting others, especially those who helped bring you to the table, you're not doing it right. That's was the big takeaway from Wednesday's (Aug. 8) No. 1 party for "Everything's Gonna Be Alright," David Lee Murphy's hit collaboration with Kenny Chesney.
Chesney co-produced Murphy's latest album, No Zip Code, with Buddy Cannon, and when the three stood onstage together at Nashville's Acme Feed & Seed, they represented a little over 30 years of friendship. "Everything's Gonna Be Alright" is Murphy's first No. 1 since his 1995 behemoth, "Dust on the Bottle."
Murphy is a principal architect in Chesney's sound, co-writing "Til It's Gone," "Living in Fast Forward," "Live a Little," among other songs. They were joined onstage by Murphy's "Everything's Gonna Be Alright" co-writers, Jimmy Yeary (Chesney's "Til It's Gone") and four-time Grammy winner Chris Stevens.
Yeary was the first to speak after representatives from ASCAP, BMI, the CMA and Murphy's home label, Reviver Records, feted the hit-makers for bringing the song to life.
"I love being a songwriter," Yeary said. "I love to feel, so if you feel it, we connect. If we connect, we form a bond. If we form a bond, you'll listen to me. And that gives us the opportunity to say things like 'everything's gonna be alright.'"
"Everything's Gonna Be Alright" is Stevens' first country No. 1. hit as work is predominantly in Christian music. He is a four-time Dove award-winner.
"This is a dream come true for me," Stevens said. "I have to thank God just for the gift of music to all of us. It's such a powerful, powerful thing. And it brings people together and when you have amazing artists like these two, it transcends everything else. It teleports us to some other place for a minute. I love being a small part of that."
Murphy said the song's party-vibe came organically.
"If nobody ever was going to play it, it was going to be a hit to us," Murphy said. "We loved it. I want to thank those guys for us being able to write that; Kenny and Buddy, obviously for just making this whole record, this whole album, it's been so much fun. We just had a great time making a record. And we made music that we wanted to listen to and have fun with. So, if you pick up a little party-vibe down underneath our music, that's because we were partying when we were making it. We were having a pretty damn good time."
Chesney spoke last and said, "This all started three, four years ago, because David Lee would send me all these songs -- demos that sounded like records -- and he was singing so great. I remember thinking, 'I'd love to hear that on the radio.' It seemed to me that there were a lotta people who aren't being sung to, and David Lee could be one of those people who could do that."
CMT's Katie Cook emceed Wednesday's event, which was decked out in oversized photo backdrops chronicling Chesney and Murphy's friendship through the years. The hall was filled with Music Row insiders imbibing on custom cocktails spiked with Chesney's Blue Chair Bay rum and noshing on roasted vegetables, barbecue pork and brisket on biscuits and skewers of hot chicken and waffles.