CMT Roundup: New Music From Breland, Madeline Merlo, Dustin Lynch and More
Check out country music's latest songs in CMT's Roundup playlist.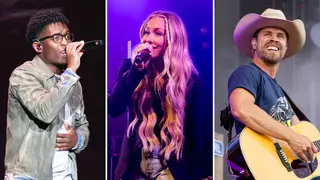 Autumn is in the air, and new country music is dropping faster than the leaves. Artists including Brothers Osborne, Dan + Shay, Dustin Lynch with Jelly Roll, Maren Morris, Breland, Brantley Gilbert, and more shared new tunes this week. CMT collected the best of them in its Roundup playlist. Hear the songs and see what the artists say about their latest efforts.
Dustin Lynch with Jelly Roll, "Chevrolet": "There is something in the air in Nashville right now, where writers are on the same wavelength and doing cool things like interpolating classic songs into something new," Lynch said. "When 'Chevrolet' came across our plate, it floored me. Everyone knows Dobie Gray's 'Drift Away' – the melody of that song is timeless," shares Lynch. "Having Jelly Roll on it adds an extra edge."
Maren Morris, "The Tree": "I wrote this on the 10 year anniversary of my moving to Nashville," Morris said. "It's about a toxic 'family tree' burning itself to the ground. Halfway through, I realize it's burning itself down without any of my help. This song evokes the pain of exhausting all your love and time for this person or "entity" but realizing it's just a draining, transactional relationship that isn't nourishing in any healthy way. By the end of the song, I give myself permission to face the sun, plant new seeds where it's safer to grow and realize that sometimes there IS greener grass elsewhere."
Breland, "Cracks": "This is a very different sound for me, but as a songwriter, I believe it's some of my strongest work," Breland said.
Mason Ramsey, "Next Right Thing": "In life, it is easy for things to go wrong but it is always important that we do the next right thing," Ramsey said.
Wade Bowen, "Lovin' Not Leavin'": "This is a Wade Bowen song….big, slow, dynamic and full of passion," Bowen said. "It's these types of songs that are my favorite to write and sing. There's no better feeling than being a rambling soul who finally finds the one who settles ya down. We spend most of our lives thinking it's not possible. Then boom… you're knocked on your ass 'cause it does. God bless the women who love a gypsy soul… this song is for you."
Brantley Gilbert, "Bury Me Upside Down (Live In Studio)": "We've been having a blast playing this song out on the road," Gilbert said. "It raised its hand early on as a crowd favorite, so we wanted to give BG Nation this song in its purest form, hearing the guitars and vocals stripped-back, just like it sounded the day it was written with my buddies Brock Berryhill, Brian Davis, Brandon Day, Chase McGill, Josh and Taylor Phillips and Michael Ray."
Madeline Merlo, "Tim + Faith": "'Tim + Faith' is a song that pulls from my love of 90s Country music, and combines it with the feeling of everlasting love," said Merlo. "I got married last year and one thing my husband and I say to each other all the time is 'It's always you & me.' That line, along with getting to be a small part of Cole Swindell's 'Heads Carolina' last year, inspired me to pay homage to one of my favorites, 'It's Your Love,' with this song."
Ben Gallaher, "Stomp": "'Stomp' is for the fans and man am I thankful for 'em!" Gallaher said. "They blew up that guitar riff to 13 million+, sharing it everywhere, re-posting it and giving us no choice but to finish writing that song and release it!"
Pillbox Patti, "Die A Redneck": "Writing 'Die A Redneck' was one of my favorite days in Nashville," Patti said. "It was my very first write with Craig Weisman, (major bucket list write, obviously)..and the vibe with me, Craig and Tompkins immediately felt like home.  We told stories and laughed our asses off.. and that's how the first line of the song fell out.. I was telling them about how we had this shitty tiny chicken shack house in Starke, with a Dirt Devil on the wall for the fleas on the dog and the roaches on the counter.. and the rest just fell out. I love making music that celebrates the ugly side of what I come from with joy and a sense of humor. 'Die A Redneck' is just another one of those celebrations."