CMT Premiere: Michael Ray Illustrates The Different Ways People Handle Breakups in "Spirits and Demons"
"Spirits and Demons," his duet with Meghan Patrick, is from his recent EP "Dive Bars & Broken Hearts"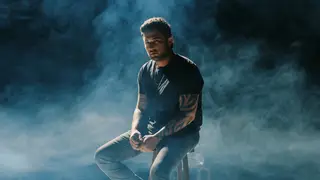 Michael Ray turned to Canadian country singer Meghan Patrick when he wanted to add a female voice to his break-up song "Spirits and Demons."
Written by Alexander Palmer, Allison Veltz Cruz and Michael Tyler, the song explores the different ways people handle break-ups. Michael Knox produced the song. Kirsten Hagwell produced the music video, and Sean Hagwell directed the clip.
The song's lyrics include: I thought goodbyes, smoky dives and barstools would all go together| I thought bourbon on the rocks| Bartender pit talks would make it all better|I thought these late nights would work out| Blurred out that ring on the dresser|But gettin' over you drunk is the only thing about us lastin' forever
Ray wanted the music video to follow the song.
"There are a few shots in the video that align perfectly with the lyrics – like the ring on the dresser among the flames," Ray explained. "It's kind of simple, but it really makes a huge impact."
He explained the way the video contrasted scenes with himself and Patrick singing highlights how people handle the ends of relationships.
"I'm completely alone, and she's got people behind her talking and laughing like she's in a crowded bar," he said. "Even though we're in two different places, the result is the same: we can't drink away our heartbreak."
The set was filled with stemware to represent the "spirits" in the title, and Ray admitted it made him a bit nervous.
"I'll probably never forget the amount of glassware we had on set," he said. "Such a cool concept and it turned out great, but I was sure I was going to step on a glass and ruin it. Also, getting to create something like this with Meghan (was cool). She really brings so much to this song, and that's true of the video, too."
When people see the video, Ray hopes they feel like it represents the song.
"We made intentional choices like keeping Meghan and I in totally separate shots throughout the video, and then we made sure we didn't face each other when we do sing together so that we were doubling down on the meaning of the song," he explained.
Ray believes the video looks "incredible" and couldn't be happier with how it turned out.
"Our director Sean Hagwell and the whole team did such an amazing job of capturing the mood of this song between the lighting, smoke and set design," he said. "This was also the first time I ever worked with AI/special effects, and they turned out amazing…it was also pretty interesting to sing to a dresser and imagine that it was on fire."