Jason Aldean Shares Story Behind "Drowns the Whiskey"
That Wasn't Sweet Tea In His Glass, He Says on #CMTHeadliners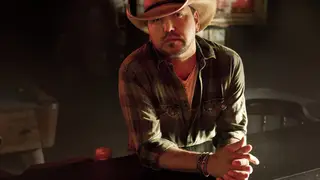 In a brand new episode of the #CMTHeadliners Facebook Live Q&A with Cody Alan, Aldean told the story of what he was thinking the day he and Lambert shot that video.
"That day, we were like, 'Hey if we're gonna be singing a song about whiskey, I don't want to be sitting here drinking sweet tea. Somebody grab some Jack Daniels,'" he said, adding that Lambert might've even had more whiskey than he did that day. "I've always said Miranda can hang with any guy I know."
The first ever #CMTHeadliners aired live on Thursday (Aug. 9) from Jason Aldean's Kitchen + Rooftop Bar in Nashville, with Alan asking Aldean the questions that fans were sending in via social media.
And it seemed like no topic was turned away.
They talked about Aldean's move to Nashville 20 years ago, and how things didn't really happen for him overnight. "For me, it was a slow crawl to get going. I moved to Nashville when I was 21, and 'Hicktown' didn't come out until I was 28. So it seemed like that part of it took forever," Aldean said. "Then there were some times when it felt like we kind of had a rocket strapped to our ass for a while."
They covered some of the brainstorming that went into the menu planning for Aldean's new place. "I wanted to incorporate things drink-wise that I actually drink," he said, citing the Pre-Game cocktail -- Crown Royal, 7UP and a lemon garnish -- as the one he and his band really do drink before they take the stage. The menu also has some of Aldean's mom's best recipes: pot roast, macaroni and cheese, and peach cobbler.
Then they talked about what it's like to be a touring artist when you have two daughters, a baby boy, and another one on the way. "We leave on the bus on Wednesday night," he explained, "and we don't get home until Sunday. Anything that happens on Thursday, Friday, Saturday or Sunday, we aren't there. So it's a double-edged sword sometimes, but this business has allowed me to provide a great life for my family."