CMT Premiere: Hannah Ellis Is Bougie And Back Roads In New Song "Wine Country"
Hannah Ellis: "We leaned into the 'Real Housewives' type of energy while keeping it country."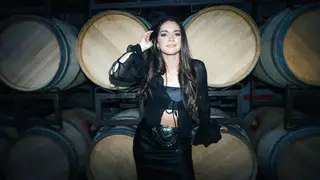 Hannah Ellis is putting a new spin on a familiar phrase in her new song and video, "Wine Country."
Ellis traveled to Chappellet Winery in Helena, California, to film the song's video and emphasize country in the phrase wine country.
The Curb Records recording artist sings about Ford trucks as she frolics in winery fields – wearing the owner's socks.
"One of my favorite memories from the video shoot was when we were shooting the brunch scene up on Pritchard Hill at Chappellet Winery," she said. "I was wearing these tall sharp stiletto heels, and I couldn't walk down the gravel path to the table. Then I tried barefooted, and the rocks were too sharp. So Blakesley Chappellet, one of the vineyard owners, gave me the socks off her feet so I could walk across the gravel. Such a sweet moment."
Ellis wrote the song alongside Clint Lagerburg and Nick Wayne. Lagerburg and Jason Massey produced the song. Tony Gates directed and produced the video. Forefront Studios, LLC was the production company.
"We really had fun with the concept for this video," Ellis said. "We leaned into the 'Real Housewives' type of energy while keeping it country. I really loved the videos from the 90's that had a different story and a light-hearted theme. It brings out the personality in this song."
Ellis hopes the video leaves fans with the idea that life isn't "all about 'this OR that.'"
"It's more about 'this AND that," she said. "I'm bougie, AND I'm back roads. You don't have to choose one lane; drive 'em all."
The video left Ellis excited and full of gratitude for the opportunity to see everyone's ideas come to life.
"Our director Tony was such a light on set, and you can tell everyone genuinely had fun making this video," she said. "From the initial concepts and storyboard, to final editing, it beyond exceeded my expectations the first time I saw it!"
Ellis comes by her bougie backroads vibe honestly. She's a native of Campbellsville, Kentucky, and describes herself as a mix of favorite flannel, sparkling pink wine and welcome. Ellis has accumulated nearly 40 million career streams and has collaborated – through writing or performing – with Russell Dickerson, Carly Pearce, FOR KING + COUNTRY, Emily Weisband, Cassadee Pope, Filmore, and Sidewalk Prophets. Ellis has toured as part of the CMT "Next Women of Country" Tour and is one of the "CMT LISTEN UP" artists to watch for 2023.