Sara Evans Turns Grand Ole Opry Induction Into A Family Affair
Sara Evans included her children and brother in her backing band this weekend when she was inducted into The Grand Ole Opry.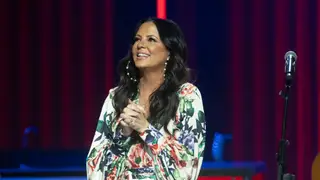 Crystal Gayle inducted a tearful Sara Evans into the Grand Ole Opry this weekend, and Evans truly made it a family event.
The singer brought her brother and adult children to play and sing in the backing band.
Evans teared up as she turned around and thanked them. But, she acknowledged her other family members who made the trip from Missouri first.
"Where's my family?" Evans asked, peering into the crowd. "Wave to me!"
The "Suds in the Bucket" singer explained it takes "a lot of people" to get one person into her position in the spotlight. She said her trek to Opry membership started as a child with her mother when her mom realized that Evans and her brothers had musical talent.
"She went out and bought music equipment and hired musicians," Evans said. "By the time I was 6 years old, I was singing in bars and everywhere you can imagine, all over Missouri. I've always been on stage my entire life with my brother Matt Evans right there. And so, even though I share this with my whole family, I really, really do share it with you, Matt. I love you."
Evans went on to thank her husband and children, her manager Craig Dunn and especially her fans.
"All of you have played a role in my life," Evans said. "You know who you are and how much I love you and how much you mean to me --  especially the fans because none of this would be here or even exist without you guys. You guys have supported me through my whole career. I feel like we've grown up together and thank you."
Evans namechecked Joe Galante, who gave her a record deal at RCA Records, but most importantly, she said, she wanted to thank God.
"My faith in the Lord has been the one constant in my life that has gotten me through good times, bad times, and y'all, I've had a dramatic life," she said.
Evans explained she was hit by a car when she was 8 years old and later nearly died in a plane crash.
"There's been a few other near-death experiences, and God has just always been there watching over me and protecting me," Evans said. " Not just protecting me, but blessing me with three amazing children and  a voice to sing country music because it doesn't matter what song I'm singing, you can always hear this country voice that comes from growing up on a farm in Missouri and my parents listening to country music."
Evans is the fifth most-played female artist on country radio in the last 20 years. She's had five No. 1 songs including "No Place That Far," "Suds In The Bucket, "A Real Fine Place To Start," "Born to Fly," and "A Little Bit Stronger."