CMT Premiere: Tanya Tucker Emotionally Explores What Happens To Cowboys "When The Rodeo Is Over" In New Video
Tanya Tucker: "It just gave me chills. I thought, 'Well, I'm so close to it. Is anybody else gonna feel this way?'"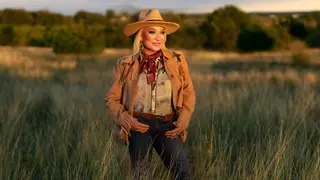 Wrapped in a blanket and standing at the highest point on Y.O. Ranch in Mountain Home, TX, at sunset, Tanya Tucker sings: "Never thought it'd be his last ride|' Til the last time he got thrown|When your heart can't take the losing|And your knees can't take the blows|When the rodeo is over, where does the cowboy go?"
"When the Rodeo is Over (Where Does the Cowboy Go?)" is from Tucker's latest album, "Sweet Western Sound," the follow-up to her 2019 Grammy-winning "While I'm Livin'" that thrust Tucker back into the spotlight and introduced her to another generation of country music fans. Shooter Jennings and Brandi Carlile produced both albums. While the song "Bring My Flowers Now," which inspired the 2019 album title "While I'm Livin'," is about celebrating people while they're alive to enjoy it, "When the Rodeo is Over (Where Does the Cowboy Go?)" explores what happens to cowboys when the rodeo stops appreciating them.
Billy Don Burns and Craig Dillingham wrote the song, and Tucker's friend and longtime collaborator Joanne Gardner came out of retirement at her request to direct the video, which debuts today on CMT. Gardner directed many videos for Tucker in the '90s, including "It's a Little Too Late," "Some Kind of Trouble," "Hangin' In," "Soon" and "Two Sparrows in a Hurricane." 
"I wanted to just cry. In fact, I probably did," Tucker said of how she felt when she watched the video for the first time. The video follows the song's lyrics while incorporating rodeo scenes as memories and spotlighting the camaraderie that often comes with the lifestyle and circuit.
"It just gave me chills," Tucker continued. "I thought, 'Well, I'm so close to it. Is anybody else gonna feel this way?' But every person that I showed it to felt the same way. I'm just elated. I really am so grateful."
It was Gardner's idea to wrap Tucker in a blanket and stand her on the hilltop for the performance portion of the deeply emotional video. The "When the Rodeo is Over (Where Does the Cowboy Go?)" video humanizes the loss, confusion and abandonment cowboys feel when they give their life to the sport and their bodies force them to step away before their hearts are ready to quit.
The clip is dedicated to the late professional rodeo cowboy Larry Mahan who won six all-around world championships and two bull riding world championships. The video also celebrates the lives and careers of rodeo legends. It features several prominent cowboys from the community, including champion saddle rider Bobby "Hooter" Brown—a member of the Rodeo Hall of Fame and Texas Rodeo Cowboy Hall of Fame. Writers Dillingham and Burns are also in the video.
Dillingham is Tucker's boyfriend, and when Jennings found the song and Carlile sent it to her and said she wanted to start with it, no one knew that Dillingham wrote it. When Tucker asked Dillingham to listen to the new song she had been pitched and share his thoughts, he returned to the room about 30 seconds later and told her he had written it 20 years before.
"I was just like, 'Whoa,'" Tucker said. "What a way to start a record. It's just a mind-blowing experience. Craig had never played it for me. It was just wild that it would be a song that he wrote. So that was amazing right there. We went in and recorded it, and when we got down to the final mix, I said, 'Wow, gotta do a video on this.'"
The song spoke to Tucker because the rodeo has been a huge part of her life since she was a teenager. But, she worried that people who weren't as deeply rooted with the lifestyle wouldn't connect with the song.
"I had so many people tell me that's not even what it's about," Tucker said. "Its circumference covers everybody because everybody has that feeling, especially when their work is done. They're getting older. What do they do? Where do they go? Five or six people told me the same story. This was what I like to call 'a God thing.' When I can't figure out how everything came together, I just figure it's a God thing. And that's what this whole video was."