CMT Premiere: Trace Adkins Visits Mayfield, Kentucky in New Video for "Somewhere In America"
Trace Adkins: "Reading the names of those who lost their lives was moving."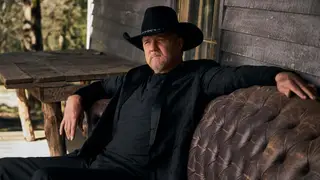 Trace Adkins is pulling on the heartstrings in his new music video for his song "Somewhere in America."
Written by Jon Nite, Hunter Phelps, Michael Hardy and Zach Crowell and produced by Mickey Jack Cones and Derek George, the song pays homage to the big-hearted country folks who live between America's coasts.
Andrew Rozario and Mike Stryker produced the video and Stryker directed the clip in which Adkins visits the tornado-ravaged Mayfield, Kentucky. An EF4 twister ripped through the area in Western Kentucky killing more than 50 people.
The video, which is packed with concert footage, opens with Adkins visiting a makeshift memorial in downtown Mayfield on the spot where the courthouse used to stand.
"Reading the names of those who lost their lives was moving," Adkins said. "'Somewhere in America' is about the heart left in this land, and the citizens of Mayfield exemplify that."
Adkins said he hopes the people who watch the video are inspired by the resilience from the people in the area who lost everything.
"I hope everyone will see a glimpse of the goodness of the citizens of Mayfield," he said. "They are good people who are clawing their way back from a catastrophic disaster."
He explained the concert footage is from a concert he did on the high school football field in Mayfield.
"Even if only for a little while, we were able to help the folks of Mayfield smile," he said.
Adkins has been a country music staple for more than two decades. He has sole more than 11 million albums and garnered in excess of 2 billion streams. He's been a Grand Ole Opry member for nearly 20 years, and his hits include "Every Light In the House Is On," "This Ain't (No Thinkin' Thing)," "Honky Tonk Badonkadonk" and "Hillbilly Bone" (with Blake Shelton).