Watch Emily Rose "Go to the Moon"
Country Newcomer Is Not Content to Just Reach for the Stars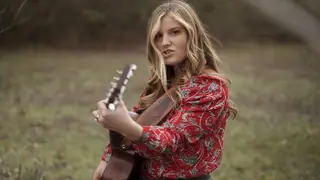 "'Go to the Moon' is all about chasing your dreams with determination, fearlessness, grit, and mindfulness -- while having some fun along the way," Emily Rose told CMT.com. "The video shows the process of realizing your dreams when you're a child and seeing them through as an adult. To reminisce on the past and revel in the future."
Rose co-wrote the song with Tori Tullier, and the video was directed by James DeMain and Price Harrison.
Rose shot the video late last year, she said, and one of the most memorable moments was the first time she met Meredith, the little girl in the video. "She was filled with excitement and innocence -- and she was fearless. She reminded me, and inspired me, to be a little more fearless myself," she said.
"I hope people watch this video and feel a tinge of nostalgia and remember how it felt to be that little dreamer as a child. And then, as adults, we really need to hold on to some of that 'dreamer as a child' sensibility, and know that we can do anything we put our mind(s) to. It's okay to have fun and go for it!"
Since this is the country newcomer's first video, it was incredibly emotional watching the finished product for the first time. "Because of the video's storyline, it was like watching me then and me now. As a little girl, I always imagined what it would be like to film a music video. To see it come to life made me feel strong, empowered, and excited for the future.
"Seeing dreams come to life is a blessing, and it made me feel like I really can do anything."