2023 CMT Music Awards: Gwen Stefani, Carly Pearce Talk "Just A Girl," Attack Hit With Aplomb
Carly Pearce: "Every time you bring in pop or rock artists from outside, it makes some people question why we're doing it."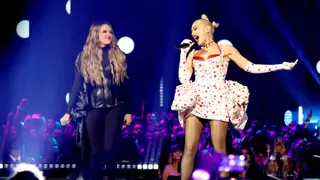 Gwen Stefani and Carly Pearce teamed up for what could be an unlikely duet on Stefani's No Doubt signature hit "Just a Girl" Sunday night at the 2023 CMT Music Awards.
Stefani opened the song in her signature punk pop grandeur on the satellite stage and at the end of mainstage's catwalk. The California native spit the lyrics to the first verse of her girl anthem with confidence and swagger as Pearce joined her on the chorus from a smaller side stage. The women walked the catwalks back to the main platform, where they met in the middle. Pearce met Stefani's attitude with her own Kentucky spirit and poise. Their voices came together as if they'd sung the song forever. In reality, Pearce had to learn "Just a Girl" specifically for The 2023 CMT Music Awards.
Before the show, she admitted that she was nervous. But Pearce said her genuine friendship with Stefani makes the collaboration more authentic than people might think.
"This is one of those moments where I am definitely pushed out of my comfort zone," Pearce said. "But I'm going to try to just maintain being myself singing something that's cool."
Stefani is married to country superstar Blake Shelton and Pearce and Shelton share a manager. The connection is where the women's friendship was born. Stefani isn't a stranger to country music fans, either. Through her relationship with Shelton, Stefani has topped country radio airplay charts and played the Grand Ole Opry.
"I think what is so powerful about music and being a songwriter is that it all stems from the same place in the heart and soul," Stefani said. "To learn more about country music through Blake so far into my career and to have the opportunity to collaborate with Blake has been unexpected. I feel very honored. I don't take it lightly to have had the opportunity to experience the Grand Ole Opry and its rich traditions or to be able to perform at the CMT Music Awards."
The collaboration with Pearce is a rarity for Stefani who has only collaborated with P!NK on the No Doubt hit.
"I am looking forward to performing in a room that I never thought I'd perform this song in," Stefani said. "It's an honor to have a song that was written so innocently many years ago and to be here today at the CMT Awards."
Pearce just hopes country fans listen with an open heart.
"Every time you bring in pop or rock artists from outside, it makes some people question why we're doing it," Pearce said. "But to me, it's bringing more and more awareness to country music. I think it gives us a chance to do something a little bit different. I think that music is music, and I'm a very big fan of Gwen. I think she would say that she's a fan of mine. She said it to me, so I feel like I can say that. We're just two people that are artists that really have a true admiration for each other, want to sing a song together and have a girl anthem."