Dolly Parton Talks "Rockstar," Says She Could Have Called The Album "Dolly Sings Her Guts Out"
Dolly Parton: "It really was kind of a challenge when I did this album because I didn't really know if I could do it great."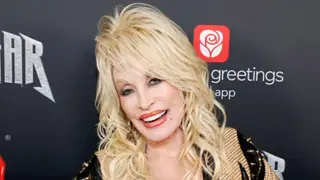 Perched on a stool on stage in a warehouse transformed into a quasi-Dolly Parton museum and event space, Parton is as serious as she gets when talking about making her new "Rockstar" album that is out today.
Parton, a member of The Country Music Hall of Fame and The Rock And Roll Hall of Fame, wasn't convinced she could sing rock songs.
"It really was kind of a challenge when I did this album because I didn't really know if I could do it great," Parton said. "That's why I did 30 songs."
After being indicted into The Rock And Roll Hall of Fame in 2022, Parton felt compelled to make a rock album. She wrote some new rock songs, including her social commentary "World On Fire" and the title track "Rockstar." She covered some of her favorite rock songs with some of the most popular artists in the world. Miley Cyrus joined her for "Wrecking Ball." Parton's "(I Can't Get No) Satisfaction" features P!nk & Brandi Carlile. She covers Prince's "Purple Rain" and Queen's "We Are The Champions/We Will Rock You" alone. She asked Chris Stapleton to join her for Bob Seger's "Night Moves" and Joan Jett & The Blackhearts jumped on "I Hate Myself For Loving You."
Because she was unsure of herself, Parton started recording the songs on a smaller scale. She thought she'd over-record and then choose the best tracks. As time progressed, her confidence grew.
"They all kept turning out good," she said. "I was in the studio, and when I was listening to all these songs, I hear my voice singing these songs that I grew up with or had heard for years, and I thought, 'Well, I'm a country singer, but now I'm going to do rock.' I wanted to do it well, but I kept hearing things, and I thought, 'I wonder if I could hit that note?'"
She knew the only person who would hear her miss the note was her producer, Kent Wells. She knew he'd laugh, but she was OK with that. So, Parton vocally stretched much farther than usual – and she could do it.
"I got to really challenge myself as a singer, not just a writer and a stylist," she said. "My voice is so different, and Kent kept saying, 'I want it to be you, but we wanted to stay kind of solid and make sure it is rock. I thought, 'Well, how can I stay Dolly and really do this?' But I really got in to sing these songs, and I really tested my voice. I would hold notes longer than I normally would to see how long my breath would hold out."
"Freebird" and "Purple Rain," one of her favorites, tested her range. She said she "felt the spirit of the people who wrote them" when she started singing the songs."
"I thought, 'Well, help me out here. And I just went for it.,'" she said. "That's a challenge (I gave) myself, and I thought I measured up pretty good on a lot of them. I really enjoyed doing it."
Parton said they could have called the album "Dolly Sings Her Guts Out."
The singer, who will be 78 in January, said she has "a lot of energy" and likes to "do a lot of stuff."
"It's a way of life," she said. "It's good that I have a way to channel (my energy), or I'd be dangerous. I love what I do. And once you get my age and you've been in the business as long as I have, you get to claim what you call your brand."
Parton laughs that her brand lets her do everything from sing songs and write books to sell cookie dough and cornbread because people trust her.
"It's fun for me," she said. "Every dream brings on another dream, and I wake up with new dreams every day. I'm going to be kicking it till they're kicking dirt on me."