WATCH: Julie Williams Explores Boundaries And Consent In New Personal Song And Video "The Prince"
Julie Williams: "I'm hoping this song starts a conversation that moves what we think about as consent from yes is yes and no means no, to the complexities that go into what consent is."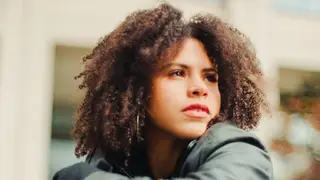 When Julie Williams wrote "The Prince," she did it alone – which is how the situation that inspired the song made her feel.
Williams endured a disrespectful intimate experience in a new dating relationship that made her question herself and feel isolated, guilty, hurt and ashamed. She turned her story into "The Prince," a musical narrative detailing being wooed by a doctor early in the evening, hesitantly going to his hotel room, and then being manhandled when she arrived.
"I'm hoping this song starts a conversation that moves what we think about as consent from yes is yes and no means no, to the complexities that go into what consent is," said Williams, who is one of CMT's Next Women of Country. "It's an ongoing conversation. It's an ongoing agreement. And sometimes boundary setting and knowing how you are feeling and what you deserve, boundary-crossing and lines not being drawn happens way before you even get into the bedroom."
Lyrics include: I've got bruises on my skin and a bite mark on my thigh| From a prince who turned to pauper when the wicked clock struck midnight| I wanted him to like me so that I could like myself| What does it say about me if I let him cross my boundaries?
Williams started writing "The Prince" soon after her ill-fated run-in with the doctor because she wanted a song that spoke to that experience. She had the chorus, the prince and pauper metaphor and part of the first verse about a doctor, which is taken directly from her story. But she struggled to finish the song because she hadn't processed what happened to her.
"When I was writing it, I still actually had bruises on my body," she said. "But it wasn't until I had a conversation with one of my friends about this story, and she said to me, 'It sounds like the boundary-crossing happened way before you were in that hotel room."
Her friend's point of view made her feel validated and think about how she was pushed out of her comfort zone in the situation.
"That really unlocked something for me in the song," Williams said.
The Florida native was at her aunt's house in California when she woke up at 4 a.m. and finished the song, whispering the lyrics into her guitar as she played.
"I'm a storyteller," she said. "That's who I am as an artist, and I really believe in the power of stories to reach the core of who we are as humans. Someone can hear themselves and their story in somebody else's, or maybe it plants a seed of perspective and empathy if somebody hasn't lived a certain story."
Listeners' personal experiences will determine what they take away from "The Prince," she knows. Williams hopes the song and video move them to a place of understanding – for themselves or others.
"I wanted a song that spoke to an experience that made me think I deserved the hurt that I was feeling because I wasn't strong enough to say no at certain points," she said. "But then when I look back at it, it wasn't my fault. There were so many ways in which this partner did not seek or respect consent. I just hope that people who have been through the scenario feel less alone. From performing and touring this song, I find a lot of people who really relate. What happened to them is not okay."