2023 CMT Music Awards: Watch Cody Johnson, Billy Gibbons, Slash and More Pay Tribute to Lynyrd Skynyrd
Cody Johnson: "There was this 8-year-old kid in me who was wanting to learn to play guitar looking over at Billy Gibbons and Slash."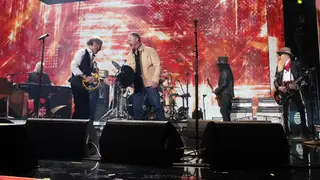 Billy Gibbons, Chuck Leavell, Cody Johnson, Paul Rodgers, Slash & Warren Haynes honored Lynyrd Skynyrd original founding member Gary Rossington Sunday night on the 2023 CMT Music Awards. Rossington recently passed away.
The tribute comes on the 50th anniversary of Lynyrd Skynyrd's first album. Johnson and Rodgers swapped lead vocals and Billy Gibbons, Slash and Warren Haynes covered electric guitar on timeless Lynyrd Skynyrd hits "Simple Man" and "Sweet Home Alabama."
Each person was uniquely linked to the band, with Gibbons' ZZ Top giving Lynyrd Skynyrd one of the band's earliest shows. Rodgers felt adopted by the band early in his career, and the links between Skynyrd and The Allman Brothers are well documented.
"We toured together," Rodgers explained. "Bad Company with Lynyrd Skynyrd and ZZ Top is always a great combination. That's the way it is."
Gibbons added: "There is a symbiotic connection for this performance that we all share some thread back to Lynyrd Skynyrd." 
The men launched the performance with "Simple Man." Rodgers started the song, and Johnson came in on lead to finish it, leaving room for LeAnn Rimes and Wynonna Judd as "The Honkettes" to shine at the end.
Johnson flowed into "Sweet Home Alabama" as if he'd been singing the song all his life - because he had. Haynes took a turn on the mic, as did Gibbons, before the song moved into a rocking, extended guitar solo that showcased each of the players. Johnson was so excited that he went to headbang beside slash and then danced around waving his hat in the air. Lynyrd Skynyrd's "All I Can Do Is Write About It" is the first song Johnson learned to play on guitar as a child.
"I worked my whole life to get here," Johnson said. "No sense in being nervous now. This is what you work for. Now it's time to go to work. Now is when the work starts. All the rest of that was just preparing for this."
Johnson, who won a trophy for his performance on the CMT Music Awards last year, said after the show that it was one of the most special moments of his career. 
"I got to perform in the Lynyrd Skynyrd tribute with people I would never imagine playing with," he said in awe. "It was pretty dang cool. There was this 8-year-old kid in me who was wanting to learn to play guitar looking over at Billy Gibbons and Slash saying, 'Even if we don't win an award tonight, we still got to do this.'"