Rosanne Cash Returns with Poetic and Personal New Album
Collections of Songs Takes On The World Through Unique Feminine Perspective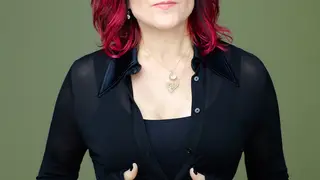 For all the ways the world has changed and evolved as the decades have passed there are so many ways in which the world has not -- and that is a sobering, harsh reality that haunts Grammy-winner Rosanne Cash, and moves her to action using her most powerful medium: the gift of song.
Cash has announced a brand-new album, her first in five years, titled She Remembers Everything. The collection of songs, all written or co-written by Cash, are profoundly poetic and personal and reflect her views on the fragile state of the world we live in through the lens of an honest, feminine perspective.
"There is a woman's real life, complex experiences, and layered understanding in these songs," Cash says of the album. "I could not have written them 10 years ago -- not even close. Time is shorter, I have more to say."
More to say in a beautifully brutal way that embraces the female narrative. The album's title track is haunting and chilling, and in the same turn freeing and comforting in its darkness thanks to Cash's warm, velvet voice and powerful message of the lyrics.
Recorded in Portland and New York City, with Tucker Martine and John Leventhal respectively, the project features contributions from Elvis Costello, Kris Kristofferson, Colin Meloy and Sam Phillips, who appears on the title track.
She Remembers Everything follows Cash's triple-Grammy winning album The River & the Thread from 2014 and comes on the heels of what has been a monumental season for the star. In addition to receiving both an honorary doctorate from the Berklee College of Music and the Americana Association's "Spirit of Americana" Free Speech Award, she's currently the artist in residence for SFJAZZ. She recently performed new music at Lincoln Center from the forthcoming musical Norma Rae and also executive produced the documentary The King with Steven Soderbergh and Errol Morris.
The album is currently available for pre-order, with two exclusive tracks available now. Cash will tour extensively in support of the project, with initial dates listed below.
She Remembers Everything Track Listing
1. The Only Thing Worth Fighting For
2. The Undiscovered Country
8. She Remembers Everything
10. My Least Favorite Life
Sept. 20: The Church of St. Luke in the Fields - New York, NY
Oct. 6: Benefit Chinati Foundation - Marfa, TX
Nov. 8: Virginia Theater - Champaign, IL
Nov. 9: Old Town School of Folk Music - Chicago, IL
Nov. 10: Old Town School of Folk Music - Chicago, IL
Nov. 29: The Cabot - Beverly, MA
Nov. 30: John Lennon Tribute at Symphony Space - New York, NY
Dec. 1: The Newton Theater - Newton, NJ
Dec. 5: SF JAZZ- San Francisco, CA
Dec. 6: SF JAZZ- San Francisco, CA
Dec. 7: Moore Theater - Seattle, WA
Dec. 8: Revolution Hall - Portland, OR
Jan. 23: Craterian Theater - Medford, OR
Jan. 24: The Cascade Theater - Redding, CA
Jan. 25: Arkley Center - Eureka, CA
Jan. 27: Uptown Theater - Napa, CA
Jan. 29: Fox Theater - Hanford, CA
Jan. 30: Golden Gate Theater - Monterey, CA
Feb. 2: Musco Center- Orange, CA
Feb. 17: VPAC- Northridge, CA
Feb. 19: Scottsdale PAC- Scottsdale, AZ
Feb. 20: Fox Theatre - Tucson, AZ
March 1: Strathmore - North Bethesda, MD
March 3: Academy of Music - Northhampton, MA
March 15: Meyer Theater - Green Bay, WI
March 16: Capitol Theater - Madison, WI
April 7: Alys Stephens Center - Birmingham, AL
April 25: Van Wezel Performing Arts Hall - Sarasota, FL
April 27: Ruby Diamond Concert Hall - Tallahassee, FL