Shania Twain, Tanya Tucker, Martina McBride and More to Join Trace Adkins in "Monarch"
"Monarch" will debut Sept. 11 on FOX.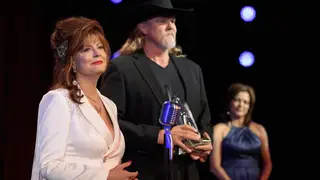 Adkins co-stars in the country music drama with Susan Sarandon, which is about a multigenerational country music drama involving country music's most influential family. The Roman family is led by tough and talented Dottie Cantrell Roman, played by Sarandon, and her husband Albie, Adkins' character. Their success is at risk, and the family comes together to protect its legacy and future.
The show was created by Melissa London Hilfers and also features guest appearances from country stars Shania Twain, Martina McBride, Tanya Tucker and Little Big Town.
The trailer for the new FOX series Monarch dropped Wednesday and highlights the drama, competitive nature, promiscuity, and lengths the characters will go to maintain their musical legacy.
"Monarch" filmed in Atlanta and was scheduled for release earlier this year, but the date had to be pushed due to the pandemic. Now "Monarch" will debut on Fox Sept. 11.
The trailer is narrated by Sarandon's character Dottie Cantrell Roman, who says, "We are the first family of country music, now and forever."
Roman explains that she never just wanted to be a star – she wanted to create a dynasty. And she did.
"But the strength to do whatever it takes to protect the family, well, we have to work on that," she added.
The teaser highlights additional clips of the Roman family's country music lifestyle -- along with bombshells that put Roman's plans in danger of imploding.
"Most people should tell the truth, but we are not most people. We're the Romans," a voice said.
Along with the actors, Twain, McBride, Tucker and Little Big Town also showcase their on-screen skills.
The trailer ends when a reporter asks Sarandon's character: "You've been the queen of country music for nearly 40 years. In all that time, any regrets?"
In response, Sarandon fired a gun and said, "No ma'am, not a one."
Monarch premieres Sept. 11 on FOX.
Fox Entertainment is producing the series, which is executive produced by Hilfers, Jon Feldman, Gail Berman, Hend Baghdady and Jason Owen.