Jimmie Allen, FOR KING & COUNTRY Talk Lifelong Friendship, Learning Each Others Songs and "CMT Crossroads"
Joel Smallbone: "We've dug each other out of ditches. To have this crossroad to link arms, it's pretty magic."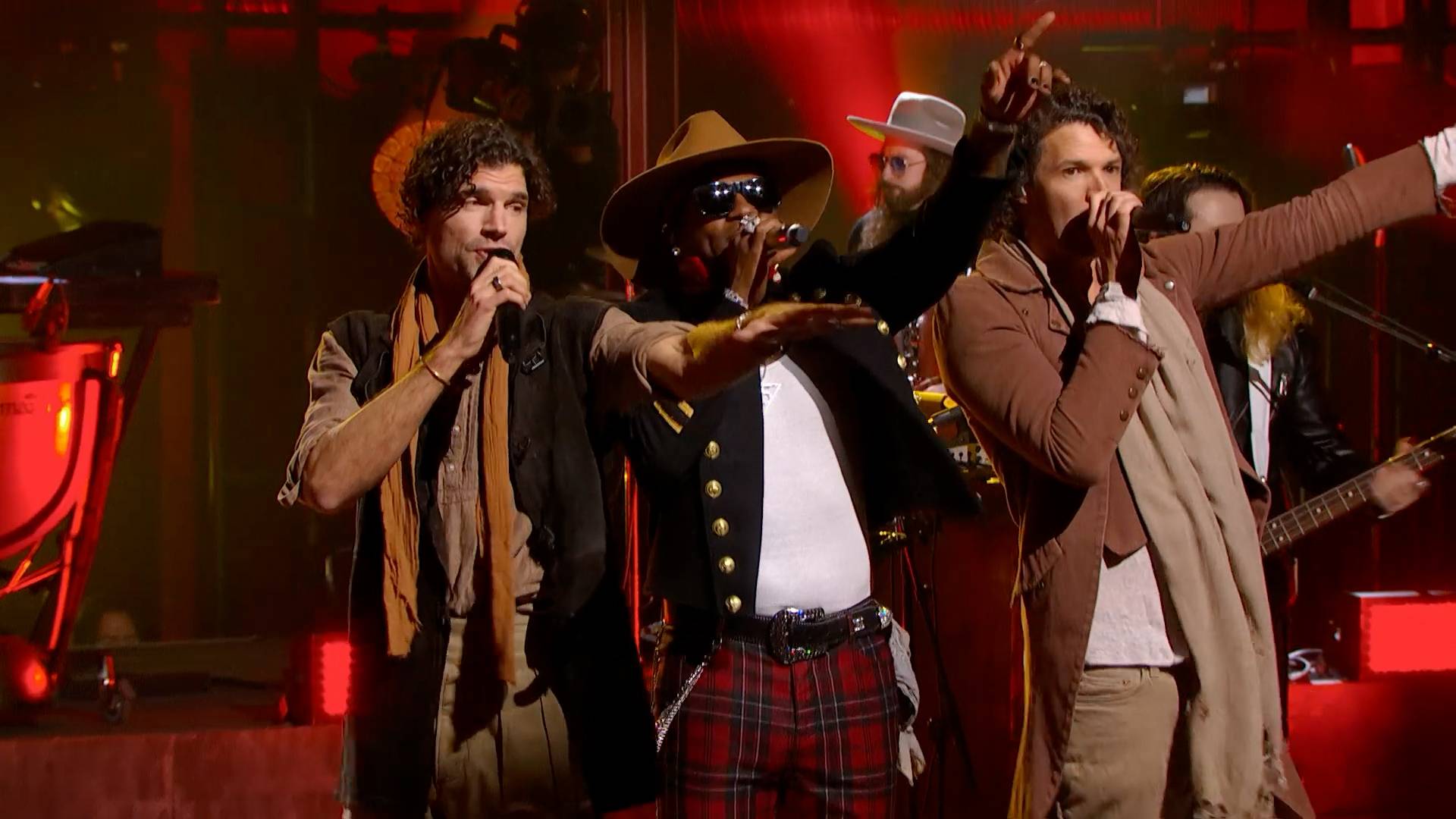 Tuesday night, 15 years of friendship will culminate on screen when Grammy-winning duo FOR KING & COUNTRY join Jimmie Allen for a CMT Crossroads. The show was scheduled to tape at the end of last year, but an unexpected illness forced the production to reschedule for February. It's just par for the course for three friends who have "licked their wounds together" for over a decade. 
"We've really grown up in this music thing together, in this town together," FOR KING & COUNTRY's Joel Smallbone said following the CMT Crossroads taping. "We've dug each other out of ditches. To have this crossroad to link arms, it's pretty magic."
"My main thing going into tonight was just having fun," Allen added.
"CMT Crossroads: FOR KING + COUNTRY & Jimmie Allen" will premiere Tuesday, February 28th at 10p/9c, with an immediate encore at 11p/10c and additional airings Sunday, March 5 at 11a/10c (CMT), Friday, March 10 at 8p/7c (CMT Music) and Saturday, March 11 at 10a/9c and 6p/5c (CMT Music).
The one-hour television special – during which FOR KING & COUNTRY and Jimmie Allen took turns singing each other's hits – was filmed at The Factory in Franklin, Tennessee, in front of a live audience. The artists and friends swapped stories, joked around, and delivered memorable collaborations on songs, including Allen's "Best Shot," "Down Home," and "Freedom Was A Highway," and FOR KING + COUNTRY'S "God Only Knows," "Joy" and "What Are We Waiting For?"
The men practiced for days before the taping and delivered a touching, high-energy show that put their camaraderie and their songs - front and center. The Smallbones run a highly rehearsed, well-choreographed, dynamic, and spirited ship, while Allen leans more towards spontaneity. The result was a charming night of friendly banter, kind-hearted teasing, compelling musicianship, charismatic performances and deep respect. 
"I've got to be honest," said Luke Smallbone. "I was a little apprehensive because you're singing other people's songs, and there's a respect thing there. I'm sitting there going, 'Man, I don't want to screw this up.'" 
FOR KING & COUNTRY, which consists of Australian brothers Joel and Luke Smallbone, and Allen lounged on couches backstage after the show and laughed about their separate approaches to preparing for the show. Per usual, the Smallbones dedicated a large chunk of time to learning Allen's songs, which posed a challenge for them because they weren't particularly familiar with country music's phrasing and melodies. They showed up on the first day ready to record. Allen admitted that after the first day of their joint rehearsal, he realized he should have practiced more. But, he held out faith that the momentum of the live audience would carry him through - which it did.
"I listen to tons of Christian music, and I've listened to their music since before they had a record deal," Allen said. "So I've been knowing FOR KING & COUNTRY songs for as long as they've been making songs."
The country singer and the brother duo met in a recording studio more than a decade ago before either artist was popular in the community. They had breakfasts together at a local restaurant and compared hardships for years as both of their careers started to take shape. FOR KING & COUNTRY released their first album in 2012, and Allen's came later in 2018.
About one year after FOR & KING COUNTRY released their debut, "Crave," the Smallbones played a sold-out show in a Nashville-area theater for about 700 people. Allen came to support them and the duo was too busy that night to hang out. After the show, Joel Smallbone was scrolling on social media and noticed that Allen had posted a sweet and supportive note about their show. 
"He said, 'I went and saw my boys FOR KING & COUNTRY tonight,'" Joel Smallbone recalled. "'I'm so proud of them.'"
Joel Smallbone thinks most people might have said, "I want what they have." But Allen's evident pride spurred them on while showing the true heart of their longtime friend. 
"There's not too many people that write that post," he said. "There's not too many people who would recognize that we weren't competing. We were brothers."
Their longtime friendship makes succeeding side-by-side in different genres even more special. Joel Smallbone explained that "breaking through in music is one in a million in the first place." He said there's no rhyme, reason, or system and that success is a combination of providence and stamina. 
"There's such power and beauty and rarity in the fact that we can sit here and say, 'We worked. We did this for 15 years before this day. What a cool thing,'" he said.
Allen added that his father's golden rule was always "make yourself available."
"You have to show up," Allen said. "That's how I ended up getting discovered at Pucketts in Franklin. I called out of both my jobs and played the writers' round. It was 11 years after being here, but it happened. Continue to show up when everyone else quits. That's the secret."
Now, after years of commiserating over their music industry woes, both are highly lauded, award-winning artists with millions of streams tacked to their names. And, for the first time, they're collaborating. In addition to their joint appearance on "CMT Crossroads: FOR KING + COUNTRY & Jimmie Allen," Allen joins the duo on their new song "What Are We Waiting For?" Gospel great Cece Winans is also featured on the song.
"I love that we've got this," Allen said of the song. "It's cool because I think it's going to be a great moment. We gotta dig deeper with each other. We gotta dig deeper with brothers."