Dustin Lynch Is Worried He's Weird Because He's Single - He Says It Inspired His Album "Killed The Cowboy"
Dustin Lynch: "I probably talk to myself way more than most people. A lot of that conversation was me ... going, 'Am I alright? I'm single. Do I have any desire to go hunt down and date somebody right now? Am I weird that I don't?'"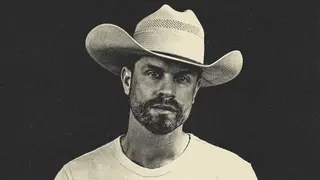 At 38 years old, Dustin Lynch has been having some serious conversations – with himself. On stage, the Tullahoma, Tennessee native, is all love ballads and the life of the party. Lynch, who will tour with Blake Shelton in 2024, whips the audience into a frenzy to sing along with his hits, including "Small Town Boy," "Cowboys and Angels" and "Thinkin' 'Bout You." Off stage, he's more contemplative and self-aware. He's also alone, which gave him plenty of time to consider his life and choices, including what he wanted to say on his new album "Killed The Cowboy," which is out now.
"It was just myself noticing, 'What do I talk about with myself all the time?'" he said, lounging in a chair in his manager's Music Row office. Wearing a t-shirt and ballcap, Lynch doesn't look like the version himself fans see on stage. He's tentative when talking about his personal life, afraid to reveal too much. But his easy smile and dancing blue eyes are at the ready as the late afternoon sun streams through the room's large picture window.
"I spend a lot of time alone when I'm off the road, so I probably talk to myself way more than most people," he explained with a laugh. "A lot of that conversation was me looking at my personal life and going, 'Am I alright? I'm single. Do I have any desire to go hunt down and date somebody right now? Am I weird that I don't?'"
MacKenzie Porter, Lynch's duet partner of their multi-week No. 1 smash, "Thinkin' 'Bout You," promises that Lynch isn't weird, even if he thinks so himself.
"Dustin is one of the most real people," she said. "He has so many things that his ego could get big about, and it's not. He's just so kind."
Lynch wondered if he was giving himself enough time and effort to find someone to spend his life with.
"I'm not dating," he said. "I think I'm trying to just self-diagnose why I'm where I'm at, why I'm OK with being where I'm at."
Lynch co-wrote five of the 12 songs on "Killed The Cowboy," including the boot-scootin' "Honky Tonk Heartbreaker," "George Strait Jr." and "Listen To The Radio." Coincidentally, it's the moody songs he didn't write – the introspective "If I Stop Drinkin'," the angsty, frustrated "Blue Lights," and the thirst of "Lone Star" – that reflect his solo place in life.
"We're continuing to see him grow artistically," said Grover Collins, the mid-day radio personality at WUBE in Cincinnati, Ohio. "He takes chances, but at the same time, he knows his lane and what his fans want and he delivers. He knows how to hit it out of the park."
Lynch is determined to keep his life and career moving in a positive direction, but his last relationship ended in March of 2021. Through making and promoting "Killed The Cowboy," Lynch learned it's OK that he doesn't have all the answers. He hopes his candor – and "Killed The Cowboy - helps other single people know that while they don't have a partner, they're not as alone as it may seem.
"I'm just a regular guy trying to figure out what I want out of life and making sure I'm open to all those options," Lynch said. "That's where I'm at, which is a fun spot to be. Hopefully, fans tune in for the ride. I don't know where it's headed, but I'm just open."
"Only Girl In This Town," written by Devin Dawson, Josh Thompson and Kyle Fishman, is the first song Lynch remembers discussing for the album. He has an up-to-date folder where he saves songs he's written and songs he's been pitched. Occasionally, Lynch and his producer sift through them. When they found "Only Girl In This Town," Lynch said it was "next level." Lynch wanted to think that the things he'd written beat it, but he knew they didn't. The first song he co-penned that landed on the album is "Listen To The Radio," which he wrote with Hunter Phelps, Randy Montana and Ben Johnson.
"Then it just started snowballing," Lynch said. "We hit the road touring. I had writers out writing, and we were just gunning for great songs. My songwriting buddies are just awesome and started knocking some out of the park."
He wrote "Honky Tonk Heartbreaker" with Hunter Phelps, Zach Crowell and Ben Johnson and explains the song was inspired by Nashville's famed Lower Broadway, which he still occasionally visits – in disguise.
"That's us just chasing a fun story scenario that takes me back," Lynch said, explaining he visited the famous strip about five weeks ago, sans cowboy hat. People are used to seeing Lynch in a cowboy hat, but if he switches to a baseball cap, he can often hide in plain sight. And if someone recognizes him, that's great, too.
"I still love bouncing around there," he said. "It's I guess a medium that I like to filter my songs through, so I like to still go see, feel the energy."
He worked as a cover band on Lower Broad for years, trying to earn tips.
"Honky Tonk Heartbreaker' just takes me back to those nights,'" Lynch said. "It's a revolving door, so many walks of life and interesting people. There's guys meeting girls and girls meeting guys and girls stringing guys along to get free drinks and then moving to the next bar."
"Chevrolet," Lynch's collaboration with Jelly Roll, is another song he's excited for people to hear. "Chevrolet," written by Chase McGill, Jessi Alexander, Hunter Phelps and Mentor Williams, layers new lyrics over the iconic melody for "Drift Away."
"It is amazing as we see interpolations become popular; I forget that I'm years and years ahead of a lot of our fans at our shows," Lynch said. "A lot of our fan base is not going to know the 'Drift Away' song, and so it's going to be a fresh melody that we know is classic and timeless that they hear, which is cool."
Looking back, Lynch said the creation and promotion process of "Kill The Cowboy" has been therapeutic.
"I don't have the answer of where I'm going to go, but I think I feel comfortable knowing that the country music fans are invested in us artists on a deeper level than most genres, and they've got a front-row seat to see where I go from here," he said.
Where Lynch was literally going after the interview was to get his haircut. He checked the time on his phone and said he had 45 minutes to make it there. As he strode to the door, he explained the guy was staying late to help him out. The singer climbed in his truck and pulled into rush hour traffic.
Dustin Lynch's Killed The Cowboy Track List:
1. "Killed The Cowboy" (Jordan Reynolds, Devin Dawson, Anderson East)*
2. "Honky Tonk Heartbreaker" (Dustin Lynch, Hunter Phelps, Zach Crowell, Ben Johnson)+
3. "George Strait Jr." (Dustin Lynch, Hunter Phelps, Jordan Reynolds, Andy Albert)*
4. "Chevrolet (feat. Jelly Roll)" (Chase McGill, Jessi Alexander, Hunter Phelps, Mentor Williams)^
5. "If I Stop Drinkin'" (John Morgan, Dallas Davidson, Kyle Fishman, Jordan Minton)*
6. "Only Girl In This Town" (Devin Dawson, Josh Thompson, Kyle Fishman)#
7. "Breakin' Up Down" (Hunter Phelps, Zach Crowell, Blake Pendergrass, Brent Anderson)*
8. "Trouble With This Truck" (Dustin Lynch, Hunter Phelps, Ashley Gorley, Zach Crowell)*
9. "Blue Lights" (Jameson Rodgers, Jake Mitchell, Brent Anderson, Hunter Phelps)*
10. "Lone Star" (Devin Dawson, Jordan Reynolds, Alysa Vanderheym)*
11. "Listen To The Radio" (Dustin Lynch, Hunter Phelps, Randy Montana, Ben Johnson)*
12. "Long Way Home" (Dustin Lynch, Kyle Fishman, Andy Albert)*
* Produced by Zach Crowell
+ Co-Produced by Zach Crowell and Ben Johnson
^ Co-Produced by Zach Crowell and Ben Phillips
# Co-Produced by Zach Crowell and Kyle Fishman