The Man Behind Walker Hayes' "Craig"
If Life Hands You a Minivan, Make Music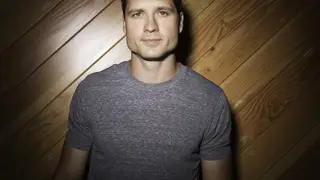 Walker Hayes introduced me to his friend Craig. Not literally, but he helped me get to know the man who inspired his latest single "Craig."
I had the chance to ask him about the song; one Hayes calls the most touching one on his album, boom.
"I'm not a churchgoer," Hayes told me. "I had a lot of wrong preconceived notions about church-y folks, and I'm bad at judging the messenger not the message. But my wife dragged me to church. And I met this guy, Craig."
"He was so genuine, even though I was messed up at the time. I think I even showed up that night a little drunk after watching football all day. But this guy, and I hit it off."
At the time, Hayes and his wife were down to one car and six kids.
"I was working at Costco, and all we had was our Honda. We had to share it. We must've looked like we were crazy. But Craig and his family held our hand through life for a minute."
Craig would go to Hayes' shows, he'd encourage him, tell him he had a gift, and even when it looked like music might not be the full-time job Hayes wanted it to be, Craig was always there telling him otherwise.
"Then one night he showed up at my son's baseball game, and I saw him in the parking lot," he said. Then Craig stepped out of his minivan with the title and the keys and handed it all over to Hayes.
"I was so ashamed. That somebody pitied me like that. It was embarrassing, humbling, and a mixture of emotions. But I accepted the car, and I began to accept that I needed help," he said, "and that that was alright. It was like a burden was lifted off my shoulders. And I was relieved my kids would be safe."
Hayes said it took him almost three months to write the song. And he didn't think it would make it onto his album -- "it's way too specific about me and this man" -- but his team and his fans love the story songs the most.
"That is the song that is the loudest. We try to move the career out of the way and ask, 'What does the world need now?' All of us artists would like to change the world.
"Craig changed me, I wrote a song, and maybe it'll have a big impact. Maybe it will take country music to a different place. I love the truth of the message and the integrity of the song."