Zac Brown Band's John Driskell Hopkins Gives Health Update, Has Raised $1 Million For ALS In Last Year
John Driskell Hopkins on ALS: "It's coming for us, and I don't know why."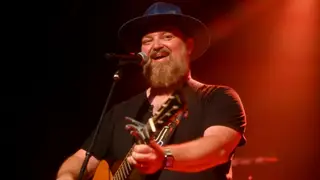 A little more than a year has passed since Zac Brown Band bass player and singer John Driskell Hopkins announced he has ALS, and he wants everyone to know he's doing well – all things considered.
"In some ways, the last year hasn't been different at all," he said from his at-home recording studio. "I have progressed very slowly, and I'm noticing things other people don't notice."
The slight differences in his health give him anxiety, he explained. But, he said he's still walking up and down stairs, talking, singing, swallowing and breathing – all functions ALS attacks.
 "There are so many people that this affects very quickly, and I'm very blessed to not be one of them so far," he said in a deep-voiced Southern drawl. "Knock on composite."
Then he knocked on his desk.
In the one year since Hopkins announced his Hop On A Cure Foundation, the non-profit has raised $1 million. The goal was $250,000. They have already distributed $300,000 in grants. Hopkins said they wanted to give the money away as fast as it came in, but they wanted to ensure the recipients were thoroughly vetted. Last weekend, Zac Brown Band teamed with Major League Baseball for Lou Gehrig Day to benefit Hop On A Cure Foundation. The venture raised more than $300,000 for Hop On A Cure through a benefit concert, a portion of ticket sales from the Reds vs. Brewers game at the Great American Ballpark and direct donations.
Following the event, the foundation's Twitter account noted: "ALS is not incurable; it's underfunded."
Hopkins said that honoring Gehrig's legacy was long overdue because of his baseball record and the valor with which he fought ALS.
"He took it on with a bravery that I want to emulate," he said. "That was 84 years ago, and we still don't have a cure or a treatment that works."
Hopkins finds hope in the progression the medical community has made in fighting HIV, which he said: "used to be a death sentence." Now, if someone fell on a hypodermic needle in the parking lot and became infected, he said doctors would give them a prescription and tell them they would be fine.
"That's what we need for ALS," he said. "We need to have something that makes motor neuron damage stop in its tracks and start to reverse so that when people start to feel symptoms, it's livable."
The musician explained that while there's no known trigger that causes ALS, there are multiple theories that cause it or exacerbate symptoms. He noted that head trauma, exposure to large amounts of chemicals, mold toxicity, Lyme disease and retroviruses are among the things believed to cause or activate ALS in patients. To his knowledge, he has none of them. He hopes that, combined with the slow progression of the disease to this point, means he and his doctors have figured out some key to his diet or lifestyle has stopped the progression of the disease in his body. 
Hopkins said his fingers are crossed for another 10 years of excellent mobility. 
"We don't know how these things start, and that's part of the reason we don't know how to fix them," he said. "Everyone is so different."
Hopkins explained that football players, pilots and military members were more commonly afflicted with ALS, but there are sporadic demographics of people – like him – who don't fit into any category.
"It used to be one in 20,000, and now it's one in 300," he said. "It's coming for us, and I don't know why."