MacKenzie Porter Shares Her Family's Cancer Story, Wants To Encourage Young People To Get Screened
Dustin Lynch, Nate Smith, Walker Hayes, Alana Springsteen and Lily Rose will join MacKenzie Porter for her Country vs. Cancer - MacKenzie Porter & Friends benefit concert. The show is 8 p.m. Monday, Nov. 20, at Brooklyn Bowl in Nashville, Tennessee.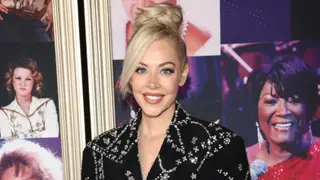 A history of cancer runs thick in MacKenzie Porter's family. Her mother had breast cancer. Her aunt, grandmother and grandfather battled the disease, too, and Porter knew that if her career ever provided a platform to give back, charities benefiting cancer research would be her first priority.
"We've been really touched by it and surrounded by it," Porter said, explaining that her grandparents have passed away, but her mother has been in remission for more than a decade. "I have been doing music my whole life, and I always knew that to give back a little bit. I think music really gives back, but I wanted to do something outside of that and bring attention to a cause."
Porter, an ambassador for the American Cancer Society, will make that dream a reality next Monday (Nov. 20) when she gathers her fellow country music friends, including Dustin Lynch, Nate Smith, Walker Hayes, Alana Springsteen and Lily Rose, for her first MacKenzie Porter + Friends Present: Country vs. Cancer, an inaugural benefit concert at Nashville's Brooklyn Bowl. Tickets are on sale now. Proceeds will benefit the American Cancer Society.
"To be able to put on this huge fundraiser and give all the proceeds to something that means a lot to me – it feels good to do something like that," Porter said. "Sometimes the industry can be a little self-involved, and it feels good to step out of that for a while."
The idea for the concert was born from a conversation Porter had with Dr. Arif Kamal, the chief patient officer at the American Cancer Society. The pair discussed what it meant for Porter to be an ambassador for ACS and how she could incorporate her country music career into raising awareness for cancer. A benefit concert was her first idea – and her first call was to her "Thinking 'Bout You" duet partner Dustin Lynch.
"I obviously needed to add some legitimacy to it," she said. "I'm not joking; in 30 seconds, he's like, 'I'm there.'"
Hayes was quick to sign on, too, but asked if one of his daughters could sing a song with Porter.
"He was like, 'If so, I'm there,'" she said. "And I was like, 'Yes, absolutely.' It just kind of flowed naturally."
In addition to raising money, Porter also hopes she can help destigmatize conversations around cancer – especially breast cancer.
"Being a young female, I think there's not a ton of conversation happening around early screening," she said. "I'm specifically talking about breast cancer. Of course, there's all different types, but the one that I feel the most passionate about is breast cancer and early screening. I feel like because I'm younger, because my friends are younger, my fans are younger, it's just not a conversation. And I would love to make it a conversation and make it not uncomfortable."
Porter admitted she still gets uncomfortable when talking to her parents or friends about breast cancer, and she wants to "break that down."
"I want to tell my fans who are anywhere from late teens to late 30s or whatever to just be aware of it," she said. "They should know their family history and talk to their doctors and find the best approach for them and their bodies as to when to start early screenings because it really can save your life."
Porter thinks talking about cancer is hard because it's usually something scary and that people want to avoid. When a friend or family member is diagnosed with cancer, no one knows what to say. But, she said, it's something everyone deals with.
"I don't know anyone who doesn't have one degree of separation from somebody who is struggling or had cancer or passed away from cancer or survived cancer," she said, explaining that she's had cysts that alarmed her. Her brother was the first person she called.
"I remember just being like, 'It's uncomfortable to tell anybody, "Hey, I found this lump. What do you think I should do?"'" she said. "But if we can break that down and people can talk about it as soon as they find something or know to check themselves, it's a difference between finding something in a really early stage or finding something in a stage where it might be too late."
Tickets to Country vs. Cancer - MacKenzie Porter & Friends 8 p.m. Monday, Nov. 20, at Brooklyn Bowl in Nashville are $61.85, including fees, each through Ticketmaster.