Leah Turner's Sultry "Wax On The Table" Also Reminds Her Fans To "Love Who They Are"
"Be comfortable in your skin, love who you are...take no bull, and know your worth," says the Mexican-American vocalist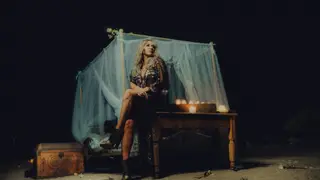 "Be comfortable in your skin, love who you are no matter shape, size, or color, take no bull and know your worth," says Leah Turner to CMT in regards to the lessons best learned from her latest single, "Wax On The Table." Talk of romance that burns as bright as a lit candle and keeps the fires burning until that candle is nothing left except wax on the table as its remnants.
Empowerment via sexuality is a commonplace topic in music. However, Turner blending this messaging with her desire to highlight her Latin cultural inspirations in her country sounds is notable, especially given how country music has a long-standing, deep connection to the Latino, Mexicano, and Hispanic cultures. Moreover, the Matt Bender-directed clip benefits from the Spanish guitar licks to guide the video's well-defined aesthetics into the realm of lovestruck spaghetti western-film-inspired romance. Turner's soul-stirring vocal is notable in this vein, too. The searing passion of the video is palpable and adds to its appeal.
However, the video has a cliffhanger that plays into the idea that love, regardless of limitations, is important. "We put a different spin on this video," says Turner. "We made the girl in the video look like me, but reveal at the end that it wasn't me all along, and I just walk away. No fighting, no yelling, just hands in the air, I'm done. [It's as if I'm saying], You don even deserve my words for doing what you have just done to me!"