Watch Darius Rucker Flex His Acting Skills In Steamy New Video For "Fires Don't Start Themselves"
Darius Rucker explains what "Fires Don't Start Themselves" is about: "It's about what you think it's about."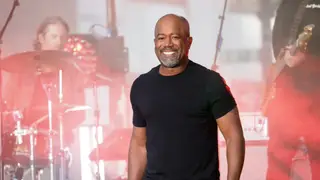 Darius Rucker flexed his acting talent in his new tongue-in-cheek, high-drama video for "Fires Don't Start Themselves," which came out today.
In the video, Rucker stars as a frustrated investigator paired with an inane partner attempting to figure out why fires - with no apparent cause -  keep erupting all over town. Flames start at home and are later discovered in a car, hotel and more.
"You get so many songs when you're making a record, and that one came in, and it was such a '90s groove. We cut it, and I was trying to channel my inner Josh Turner for a minute," Rucker said. "The song is about fires don't start themselves. It's about what you think it's about."
Rucker clears up any confusion on the video, which shows a couple so passionate for each other that they can't keep their hands – or lips – to themselves. A few seconds later, the couple starts bursting into flames.
Written by Ben Hayslip, Jacob Rice and Dan Isbell, "Fires Don't Start Themselves" is from Rucker's upcoming new studio album "Carolyn's Boy," which will be available Oct. 6. The singer says the album's name pays homage to his mother, "the greatest woman I've ever known."
"It's been six years… We had so much to write about, so I took my time, got with some great guys, got some great songs, and I'm really excited for people to hear it," Rucker said from the "TODAY" Citi Concert Series stage on Friday, Sept. 1.
Music fans first met Rucker when he fronted Hootie & the Blowfish,  the GRAMMY Award-winning rock band that has sold more than 25 million albums worldwide, including its  Double Diamond-certified (21x Platinum) debut "Cracked Rear View."
Rucker released his debut country album in 2008 and has since charted four No. 1 albums on the Billboard Country chart and 10 No. 1 singles at Country radio. He was inducted as a Grand Ole Opry member in 2012, and in 2014, he won his third career GRAMMY Award for Best Solo Country Performance with his 11x Platinum version of "Wagon Wheel."
Carolyn's Boy Track List:
1. Beers And Sunshine (Darius Rucker, JT Harding, Josh Osborne, Ross Copperman)
2. In This Together (Darius Rucker, Derek George, Bobby Hamrick, Joy Williams)
3. Never Been Over (Darius Rucker, Lee Thomas Miller, John Osborne)
4. Fires Don't Start Themselves (Ben Hayslip, Jacob Rice, Dan Isbell)
5. Ol' Church Hymn feat. Chapel Hart (Darius Rucker, Greylan James, Ben Hayslip, Josh Miller)
6. 7 Days (Darius Rucker, Ross Copperman, Ashley Gorley, Charles Kelley)
7. Same Beer Different Problem (Darius Rucker, Tofer Brown, Sarah Buxton, Brad Tursi)
8. Sara (Darius Rucker, Joel Crouse, Kyle Rife, Ed Sheeran)
9. Have A Good Time (Darius Rucker, Monty Criswell, Derek George, Bobby Hamrick)
10. Sure Would Have Loved Her (Darius Rucker, Wyatt Durrette, Levi Lowrey)
11. Southern Comfort (Chris LaCorte, Matt Rogers, Josh Osborne)
12. 3am in Carolina (Darius Rucker, Ross Copperman, Michael Hardy)
13. Lift Me Up (Temilade Openiyi, Robyn Fenty, Ryan Coogler, Ludwig Goransson)
14. Stargazing (Darius Rucker, Brinley Addington, Jess Cayne, Matt Morrisey)