WATCH: Blake Shelton Gives Ole Red Stage To Stepson For First Performance
Gwen Stefani's son, Kingston Rossdale, makes on stage debut at Ole Red in Oklahoma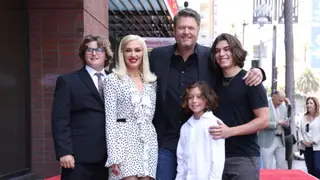 Kingston Rossdale is just following in their footsteps.
Rossdale, Gwen Stefani's 17-year-old son with ex-husband and Bush singer Gavin Rossdale made his singing debut over the weekend in stepfather Blake Shelton's Tishomingo, Oklahoma bar and live music venue, Ole Red.
Shelton and Stefani own a farm nearby. 
Shelton teased Rossdale's performance on his socials in the days leading up to the shows, writing that he would "turn the stage over to a debut artist that will be doing their VERY FIRST public performance! See you at the @OleRed Tishomingo Doghouse!!!! You never know who else may show up."
Wearing an oversized t-shirt and baggy pants, the teen chatted with the audience as his accompanying acoustic guitar player strummed in the background. That doesn't mean Rossdale wants to be a country singer. 
The audience cheered their appreciation for his performance, and Rossdale seemed warmed by the positive reception.
"Love you guys, thank you for being here!" he said after he finished the song. "Thank you, it means everything to me, really. I hope you guys had a great night, enjoy yourselves!"
Shelton was proud of Rossdale's confident performance and warmly hugged him as he left the stage. 
Shelton says he takes his role of stepfather seriously - but makes sure to have plenty of fun with his three stepsons. 
"They've taught me something about myself that I never knew: I'm more than just a country singer or a goofy guy," Shelton told People in 2022. "I'm someone they actually lean on, and that's not a responsibility that I ever had and not something that I ever considered even being into."
Shelton said it was a "different kind of self-worth" or maybe the opposite of it because he put himself "way down on the rung, and they move up ahead of you."
He cited his stepsons among the reasons he left "The Voice."
"You don't know what your regrets are going to be until you look back one day," he said. "I feel like my regrets would be, if I stayed on this path, that I am missing out on some more important things in life — and for now, that's our kids."