"Butterflies" Catch a Falling Kacey Musgraves
Details the First Song She Wrote After Meeting Ruston Kelly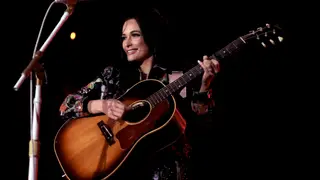 When Kacey Musgraves fans hear her new song, "Butterflies," they're listening to Musgraves falling for Ruston Kelly.
Co-written with hit-makers Natalie Hemby and Shane McAnally, the Golden Hour single is the first song Musgraves wrote after meeting her now husband.
"'Butterflies' is one of my favorite songs on the record," Musgraves said in a recent radio interview. "Everything from the lyrics down to the production really represents this floaty, dreamy feeling that I got as soon as he came into my life.
"I had gotten off the road and tried to get back to my creative roots of just writing again just to write and explore new ideas. I had just met Ruston, so my world had been completely flipped upside down, so this is a great sonic representation of that."
The beauty in "Butterflies" is how Musgraves gives voice to the feelings one should feel when love is real. She offers an ethereal performance in her recording, and the video has a matching aesthetic. The bedazzled bodysuit Musgraves wears in some scenes is very Britney Spears in the 2004 "Toxic" music video.
Musgraves joins Harry Styles' 2018 tour on June 5 in Dallas, and she will make her Saturday Night Live debut on May 12. Her Oh, What a World Tour launches Oct. 21 overseas in Amsterdam.