Diamond Rio Unveils New Lineup, Releases Song "The Kick"
Diamond Rio debuted with "Meet in the Middle" in the '90s and had hits including, "How Your Love Makes Me Feel," "One More Day" and "Beautiful Mess."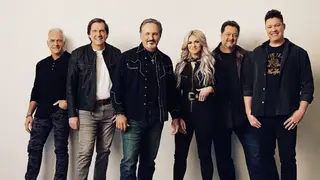 Country music fans fell in love with Diamond Rio more than three decades ago with their breakthrough hit "Meet in the Middle."
After 33 years together, group members Brian Prout and Gene Johnson retired and new members Carson McKee (fiddle/harmony vocals) and Micah Schweinsberg (drums) stepped in.
Now, Diamond Rio is ready to unveil a new line-up and fresh music.
The band released their new song and video "The Kick" today.
"Micah is an unbelievable musician," said the band's singer, Marty Roe, of the drummer who has played with the group off and on over the years. "He brings renewed energy to our live performances," says Roe.
"Being in Diamond Rio, for me, is the story of a young musician who eventually got to be in his favorite band," Schweinsberg added. "I have admired the talent of Diamond Rio for over 30 years. I tell people constantly that I'll always be a fan of this band first, whether I'm in it or not."
Roe admitted McKee wasn't who the band was in search of when members started looking for backfill for Johnson. He said the group was looking for another Johnson, but quickly discovered that person did exist.
"Carson is an amazing young musician and we are so lucky to have her," Roe said. "She can sing as high as Gene, which was hard to find, and her vocals blend so well with mine and Dana's. She also brings an energy to the stage that keeps us old guys on our toes."
McKee added: "Let me just say that Gene Johnson, you are my hero. Growing up, you were my hero, will always be my hero, and have left a mighty big footprint in this industry. I am honored and humbled with the chance to try and do your part the justice it deserves. You left some very high standards."
Diamond Rio debuted with "Meet in the Middle" in the early '90s and went on to have hits including, "How Your Love Makes Me Feel," "One More Day,"  "Beautiful Mess," "Unbelievable" and more.
The group has sold more than 6.8 million albums and has in excess of one billion global streams.