Kyle Jacobs Family Has Celebration Of Life Seven Months After His Death
Kyle Jacobs' parents said: "Remembrances continue to come to us daily. He was known for his genuine, humble spirit and an ability to touch another person's life in a moment."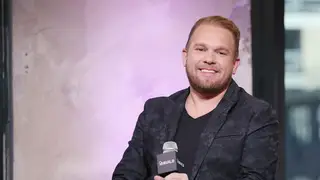 Songwriter/producer Kyle Jacobs, who was married to Kellie Pickler, died by suicide in February. His family and friends gathered to honor his life on Monday.
People reports that hundreds of guests arrived at Franklin First UMC in Franklin, Tennessee, to remember his life.
His family said in a press release that while the celebration was a long time coming, it was necessary to his parents to "cope with the shock of his passing, and to work through adjusting to this life without our beloved son."
"Thus, Kyle's Celebration of Life was created and presented in a thoughtful and thorough way to best honor how Kyle lived his life," the family said.
The statement described Jacobs as "a lover of life."
"He loved his family and his friends, and he earnestly showed love and brought joy to countless others he did not even know," his parents continued. "Remembrances continue to come to us daily. He was known for his genuine, humble spirit and an ability to touch another person's life in a moment."
Curb Records' Mike Curb opened the ceremony and other friends and family shared sentimental stories and sang songs. People reports the event ended with Jacobs' song "You Are with Me."
"We would like to thank all of you who helped with the celebration, starting with the counsel, love, prayer and professionalism of our church family," his family said in the statement. "Second, we wish to thank everyone who helped with putting this event together. The stories told, the songs sung, and the love shared were a testament to Kyle and to how he was able to draw people together in friendship, work, and fun!"
People said that per the recording of the celebration they obtained, Pickler "did not appear to take part."
Jacobs died from a self-inflicted gunshot wound at the couple's Nashville home in February.
Metro Nashville Police Department Spokesperson Don Aaron issued a statement saying that Nashville Department of Emergency Communications received a 911 call from the couple's residence. When officers and Nashville Fire Department personnel responded, they found Jacobs deceased from an apparent self-inflicted gunshot wound in an upstairs bedroom/office.
The statement continued: "Mr. Jacobs' wife, Kellie Pickler, reported that she awoke a short time earlier, did not see her husband and began looking for him. After she and her personal assistant could not open the door to the upstairs bedroom/office, the assistant telephoned 911."
Jacobs moved to Nashville from Minneapolis, MN, in 2000 and notched his first significant success as a songwriter in 2003 with Kimberly Locke's Top 10 AC single "8th World Wonder." In 2007, Jacobs co-wrote Garth Brooks' "More Than A Memory," which debuted at No. 1 as the fastest-rising single in the history of country music. Jacobs also co-wrote Top 10 singles "Still" by Tim McGraw and "Dust" by Eli Young Band. In addition, Jacobs produced four No. 1 singles for Lee Brice, "Hard To Love," "I Drive Your Truck," "Drinking Class" and "Rumor," Jacobs' most recent chart-topper as a songwriter.
In August, Pickler spoke for the first time about Jacobs' death.
"One of the most beautiful lessons my husband taught me was in a moment of a crisis if you don't know what to do, 'do nothing, just be still,'" she told People. "I have chosen to heed his advice."
Pickler thanked her family, friends and supporters for the "countless letters, calls, and messages that you have sent my way."
"It has truly touched my soul, and it's helping me get through the darkest time in my life," she said. "As many of you have told me, you are all in my prayers."
When Jacob's toxicology results came in, he had no drugs in his system when it died. However, it revealed he did have a history of pseudoseizures, gastrointestinal bleeding, elevated liver enzymes, and chronic alcohol use.
Pickler said she's planning to have an intimate memorial service for Jacobs later in the fall, which is what she said he would have wanted.
Pickler signed the People statement, "Love & Blessings, Kellie."