Maren Morris on Her Crazy, Badass Video
And Why She Didn't Go All Vegas-y for "Rich"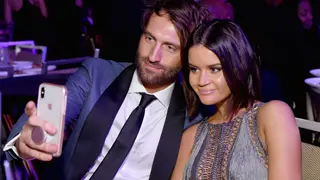 Before I even saw Maren Morris' "Rich" video, I saw her new husband Ryan Hurd's tweet about it. Specifically, his role in the Wild West mini-adventure flick.
"I do my own stunts. Check out my cowboy cameo," Hurd wrote.
At Morris' Nashville No. 1 party for "I Could Use a Love Song," she talked about some of the reasons why she cast him in her music video.
"Ryan looks better than I do in it," Morris said. "It's a western. I think a lot of people were thinking we would go super Vegas-y with it. But I think we wanted to do something expected. [Ryan] is the cowboy in it. It was the most fun, easy shoot I've ever done. I kind of conquered my fear of horses."
The video is very funny and doesn't take itself too seriously, she said, because she thinks that is the true definition of being rich.
"It's the last single from [Hero]," she added, "and we get to do this crazy, badass western video for it."
The video was shot in an old Western movie location in Tuscon, Ariz. where Three Amigos and Tombstone were shot. Besides Hurd, Morris recruited almost everyone she knew to play a part: her manager, her tour manager, her band members and her crew. "I mean, I got to look around all day at how ridiculous everyone looks, and it's going to be cool."