Jon Pardi Reveals He's Recording "Really Fun" Christmas Album
Jon Pardi hasn't written any Christmas songs but has no plans to record "boring" holiday tunes.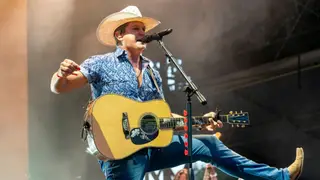 Jon Pardi has two new babies on the horizon in the coming weeks.
Pardi and his wife Summer are expecting their daughter, Presley, next month, which also happens to be when the singer will record his new Christmas album.
Pardi shared news of his Christmas album Thursday night on the red carpet for the Musicians On Call Millions of Moments event in Nashville.
He said his daughter's due date is "getting closer and closer," but that in the meantime, he's in "songwriter world." Pardi said he is writing songs for a new studio album and plans to record his Christmas album February 2 and 3.
"We're really excited about it," Pardi said of the Christmas project he plans to release in 2023. "We're doing a damn Christmas record. It's really fun. I've been in songwriter land and baby land and mixing land."
The expectant dad said he didn't write any songs for the Christmas album because he's been focused on writing for the studio album. But Pardi knows precisely what he wants the Christmas album to be, and he's done a lot of research.
"I did go through a lot more pop songs and other stuff," he said. "I can't give it away because I was really detailed in what we're recording. But we're not singing 'Silent Night' or 'O Holy Night' or any boring ass Christmas songs."
Pardi says he calls the project "Christmas with a drink."
"It's very up-tempo and fun," he said. "I feel like there's all kinds of weird Christmas songs that everybody does. It's a merry Christmas party."
Now the couple is preparing for their baby girl. Earlier this month, they shared their plan to name her Presley Fawn Pardi.
The singer posted a series of photos of himself and his wife in a photo booth at the party and wrote: "Presley Pardi, we ready!!"