Carrie Underwood, Cody Johnson, Ricky Skaggs and More Share What Makes Vince Gill a Giant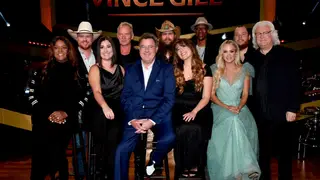 The country music community joined with CMT this week to honor Vince Gill.
Artists including Carrie Underwood, Luke Combs, Chris Stapleton, Sting, Cody Johnson, Ricky Skaggs, Brad Paisley, Maren Morris and more converged at Belmont University to pay homage to the artist that George Jones affectionately called Sweet Pea. The show will air at 9 p.m./8 p.m. on CMT. 
Here's what a few of the artists had to say about Gill, a two-time entertainer of the year with more than 1,000 collaborations with other artists to his credit. 
Carrie Underwood: "He's an Okie boy, and I'm from Oklahoma. I feel like getting to grow up and see him and other artists like him that were from a little bit down the road go on to live the dream that I wanted to someday maybe have was just super inspiring. He's got obviously an incredible voice and just some of the most memorable songs in this era of country music. It's just an honor to get to be here."
"I feel like a lot of people kind of just trying to make this night, you know, special and kind of have."
Cody Johnson says "When I Call Your Name" is his favorite Vince Gill song because it is unapologetically traditional country. 
"The song shot to No. 1, and I wondered if that could ever happen to me," Johnson said. 
When Johnson showed up at CMT Giants Monday night, he had never met Gill and was nervous about it. But he knew exactly what he was going to tell him when he did. 
"I flew from Minneapolis to be here," Johnson said. "It was just so important. I've worked for 15 years for this opportunity to get one of these calls. In the words of the old farmers, you got to make hay while the sun shines."
Johnson said Gill is a Giant because when someone says his name, everyone knows who he is. 
"You can say the same thing for George Strait or Dolly Parton," Johnson said. "There are certain people whose careers just had that much impact, and he's one of them. If I ever get the chance, that's what I'm going to tell him."
Ricky Skaggs and Gill have known each other since they were very young men. Skaggs even laughs that he kicked Gill out of a band one time.
However, there's no bad blood between the two. It's all heart.
Skaggs said it's Gill's giving heart that makes him a giant.
"He loves people. He's a real lover in his heart of people, and he's got a heart. That's one of the things I love about him; the music business has not left him jaded. He remains Vince Gill, and he's just not going to let anything knock him off his path because he can go toe-to-toe with any musician out there. He's a guitar gunslinger, but he's such a great singer."
 People you've barely heard of ask him to sing on something, and he will. He's cool like that, you know?"
Rodney Crowell and Gill have one of the longest friendships in the business. Crowell says that is because he and Gill trust each other implicitly.
"We've been through enough that there's nothing that could happen between us that would make us not trust the other," Crowell says. "It's a blood brother thing, and it's love. I love him, and he loves me. We don't have to talk every day, but when we do, it's no time is elapsed."
Crowell says his favorite Gill stories "aren't fit for public consumption." However, he does have fond memories of Gill beating him at golf and other athletic activities. 
 "Back in the day, we used to play one-on-one basketball. I could never play golf with him, but I could beat him at basketball. Even though he was taller than me, I could dribble around him. So, I would try to entice him into one-on-one basketball games. That was always fun. We don't do that much anymore."