Lennon Stella Talks Friendship With Chip Esten, Leans into "Nashville" Roots For Upcoming Album
Lennon Stella will perform at Pilgrimage Music & Cultural Festival on Saturday, Sept. 24, at 5:45 PM.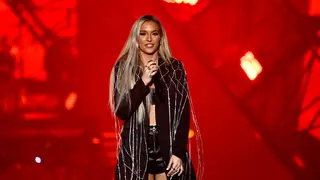 "It would be my first time playing," Lennon told CMT with enthusiasm. "It's just like a very heart-filled space of music,  where there's a lot of artists that I just love so much. This is the first festival I've done in a while, so I can't wait for it to fill me back up." 
The Nashville-based artist attended the two-day event last year to see American rock band Cage the Elephant live. She said that her experience and perspective as a ticket-holder will affect how she tackles her set.  
"The whole festival was really properly run and was just a fun little day," she explained. "The shift of being in the crowd and watching a show is so interesting. Then being on stage and knowing what I crave when I'm in the audience and want out of the show. Festivals, in particular, they're a different kind of energy. I am excited to perform for people that don't know me or my songs. I have family and friends coming, which always make it really fun for me," she added. 
Lennon will take the spotlight for one hour on Saturday, starting at 5:45 PM at the Gold Record Road stage. She revealed that her setlist will include familiar covers, fan favorites from her debut album "Three. Two. One," and recent single "Bubble." However, the songstress will keep her unreleased tracks from her forthcoming record unwraps. Although festival-goers won't receive a taste of Stella's new music, she confirmed that they will get their hands on the full-length LP in early 2023. 
"I've been in album mode and just taking my time with it. I am letting the album mold itself in a way. I've been working on it for maybe the last year. I have been in the studio a lot, and I am in the songwriting part of the album making," Lennon said before clarifying that she's returning to her folk-like sound showcased on the hit series. "I will say that there's 100 percent a shift happening, and I am leaning into the folk singer-songwriter side. I mean being on 'Nashville' and making country music, but the songs I made on that show were a bit more folk," she pointed out. 
Following the show, Lennon ventured away from the country music genre to build a career in the indie-pop space. With six seasons of CMT's 'Nashville' under her belt,  Lennon said she had the urge to try something new and branch out. Now, the genre-bending singer is returning to her roots and channeling her storytelling soul found while filming at an early age. 
"I went into a certain place that was a bit more pop, and I think that's natural. But, you get to a certain age where you're like, 'I kind of want to go back.' Real instruments like drums vs. program, and more piano. We are naturally leaning into that land. I have grown up so much in the public eye, that people have felt like they have watched me grow up. I think I touched on that quite a few times in the new record." 
She continued to go into more detail about the over-arching theme. 
"I guess the biggest thing that has been a tie is human connection," she uttered. "We all grow up, and we all feel love, and we all feel all these things, because it is human nature. I've been tapping into them and writing about all those things – a little bit more outward than inward." 
Her songwriting strategy and folk-like sound is not the only thing she took away from her experience working on 'Nashville.' In fact, she received valuable career advice from close friend and costar, Charles "Chip" Esten. The frequent Grand Ole Opry performer played Deacon Claybourn, Lennon's on-screen biological father. 
"He gave a lot of advice in the acting world and different pointers. Before getting on ' Nashville, ' I had never acted or even considered acting. He was definitely a guide and a lot of help. I shot most scenes with him when I was a kid. He gave advice that I would say was more energetic. He was just a person that I felt like I could go to even in the music industry," Lennon recalled. "He has always been there for me and supportive."
As fans eagerly await her highly anticipated project, they can watch Lennon find her voice on "Nashville" alongside Esten on Hulu. Tickets to Pilgrimage Music & Cultural Festival are still available for purchase to see the powerhouse  live and in person.