CMT Premiere: Gabby Barrett Features Her "Sweet Family" in Video for "Glory Days"
Gabby Barrett: "Just filming with our kids for the first time is something I'll never forget."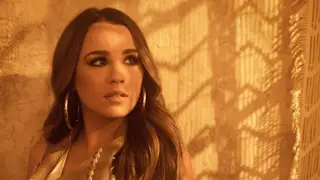 Gabby Barrett and her husband Cade Foehner became parents to daughter Baylah May in January of 2021 and son Augustine Boone about 21 months later.
The parents are very careful not to share photos or videos of their children's faces. But Barrett's new song "Glory Days," which she wrote with James McNair, Emily Weisband and Seth Mosley and co-produced with Ross Copperman, was so personal to her that she chose to feature her family in the music video.
"What you see literally are my 'Glory Days' right now," Barrett said. "It's sitting on the porch and reading the Bible with my husband or rocking my baby to sleep. This video perfectly brings the lyrics to life."
The video is filled with deeply personal scenes of their family time, and Barrett said that she has so many treasured memories from filming the clip.
"Just filming with our kids for the first time is something I'll never forget," she said. "We had so much fun during the water balloon fight and were absolutely drenched after filming. The whole shoot we couldn't stop laughing!
She said she hopes the video reminds people to start living in the present.
"We can all get so caught up in living for the future that we forget to cherish the moments we have right now," she said.  "I hope that's the takeaway, to be grateful for what you have."
When she saw the video for the first time, the "American Idol" alum said she "couldn't stop smiling."
"Seeing my sweet family in this video just melts my heart," she said. "I feel so unbelievably blessed."
"Glory Days" is the first release from Barrett's highly anticipated sophomore album and is the follow-up to her breakthrough hits "I Hope," "The Good Ones" and "Pick Me Up."
The mom of two is currently on tour with Kane Brown.