Five at Five: CMT Next Women of Country at CMA Fest + Tyler Childers' 'Country Squire' Arrives Aug. 2
Five Things to Know in Country Music for May 16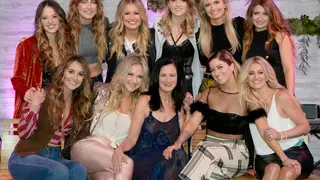 Give us a minute, and we'll give you five things you need to know in country music. It's your new fix for all the latest headlines in one place. Here's what you need to know for Thursday (May 16):
CMT Next Women of Country at CMA Fest
The CMT Next Women of Country showcase at the Country Music Hall of Fame returns to CMA Fest June 7 at 12:30 p.m. with performances by Mickey Guyton, Caylee Hammack, Rachel Wammack, Hannah Ellis and Lainey Wilson. Reserved seating is available through the Country Music Hall of Fame and Museum's website.
Tyler Childers' Country Squire Arrives Aug. 2
Country Squire, Childers' new album coming out Aug. 2, will feature nine new originals produced by Sturgill Simpson and David Ferguson. Stuart Duncan (fiddle, mandolin, banjo), Miles Miller (drums, background vocals) and Russ Pahl (acoustic guitar, electric guitar, pedal steel, Jaw harp, baritone) are among the world-renowned musicians featured on the collection. "I hope that people in the area that I grew up in find something they can relate to," Childers says of the new music. "I hope that I'm doing my people justice and I hope that maybe someone from somewhere else can get a glimpse of the life of a Kentucky boy."
Montgomery Gentry's Outskirts EP Arrives June 14
Montgomery Gentry's seven-song Outskirts EP features "King of the World" with guitar work by Steve Vai, a cover of Merle Haggard's "What Am I Going to Do with the Rest of My Life" and a version of Darrell Scott's "You'll Never Leave Harlan Alive." A special Underground Fan Club party presented by Wrangler is set for June 4 at Nashville's Acme Feed and Seed leading up to CMA Fest. A complete list of tour dates and ticket information are available via Montgomery Gentry's website.
World War II Veteran Ernie Andrus, 95, Joins Opry's Salute the Troops
Trace Adkins, Lee Greenwood, Craig Morgan, Mark Wills, the Wild Feathers and Travis Denning will be part of a special Grand Ole Opry May 21. World War II sailor, Ernie Andrus, 95, will lead a red-carpet parade of American military veterans into the Grand Ole Opry House to kick off the night's Salute the Troops show. In 2016, Andrus became the oldest person ever to run across America, journeying from San Diego, California to Saint Simons Island, Georgia. Last month, he began a second run across the country to raise money and awareness for the LST 325 Ship Memorial in Evansville, Ind. He started in Georgia with a plan to finish in California after his 100th birthday.
Michael Ray is among the initial artists confirmed to perform Atkins' free Music City Gives Back benefit show June 3 at Nashville's Ascend Park. Additional artists will be announced in the coming weeks, and autograph sessions will be scheduled throughout the afternoon leading up to the concert. The benefit supports Nashville's W.O. Smith Music School, a nonprofit that provides music lessons to the city's underserved children.