Megan Moroney Rings In CMT's New Season Of "Viral To Verified" And Talks Finding Success Organically
CMT's weekly digital series "Viral To Verified" will feature Dalton Dover, Avery Anna, Cooper Alan, and more.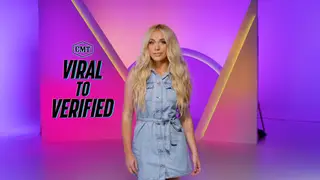 CMT's award-winning digital series "Viral To Verified" has made a triumphant return (Jan. 12), featuring fast-rising artists that have experienced social media success. The five-episode installment is scheduled to highlight one artist per week. It will display how viral newcomers have turned their online recognition into an adoring fan base or flourishing career. 
"We're excited to be back with Season 2 of our award-winning CMT digital series' Viral To Verified," shares Melissa Goldberg, Vice President, CMT Digital. "This season, we're spotlighting the rise of five talented new country artists who are at the tipping point of stardom. Each of their stories is as unique as the music they create, and we're thrilled to document this stage in their careers and introduce them to an even broader audience through CMT."
Goldberg continued to go into further detail about CMT's creative approach. 
"This year, we've elevated the look and feel of the series and added a companion performance to each episode so those who may not be familiar with the artist will be able experience the music firsthand," she added. 
The first episode features Moroney, a Georgia native that became an overnight sensation after the release of her viral hit "Tennessee Orange." Following her six-song EP, "Pistol Made of Roses," the emerging artist co-wrote the love song alongside Paul Jenkins, David Fanning, and Ben Williams. 
The relatable lyrics resonated with Moroney's TikTok community of 509K followers and immediately took on a life of its own. The ballad, which conveys a modern-day "Romeo and Juliet" narrative – became the most-streamed song by any female country artist per week and has amassed over 92 million total global on-demand streams. 
"People think that TikTok is a bad thing, but I know for a fact that 'Tennessee Orange' would not be doing what it's doing, and that's just how it is," Moroney told CMT. "I'm proud of the music that I make and the songs that I write. I think it's great that artists can use whatever tools we have, and you don't have to be signed. You don't have to have a huge marketing thing. It's crazy what can happen just organically, because that's what all of this has been." 
Shortly after the positive praise, Moroney inked a record deal with SONY Music Nashville and made her Country radio debut. The fierce vocalist with a promising future in country, is gearing up to embark on her first sold-out headlining tour in April 2023. 
"Viral to Verified" is one of many short-form series offered by CMT exclusively produced for digital platforms. The next episode will go live on Thursday, Jan. 19, spotlighting Dalton Dover.