Lauren Alaina Announces New EP "Unlocked," Duet With Lainey Wilson
Lauren Alaina's new EP "Unlocked" includes songs co-written by Cole Swindell, Ella Langley and Luke Bryan and will be out June 9.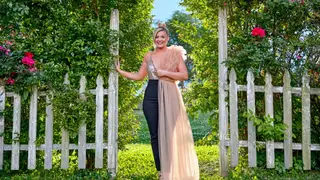 Lauren Alaina is embarking on a new musical chapter, and she's ready for the big reveal. Alaina left her longtime record label more than a year ago, signed with Big Loud Records, and today said her six-song comeback EP, "Unlocked," will be out June 9.
"It's been 13 years since we first met, and until a couple of years ago, I don't know that I ever slowed down for more than a day or two at a time," Alaina said in a statement. "I spent more time with the people that matter most to me – my family, my fiancé, my friends – during that period than I had in years. This music comes from my heart and my hometown. I am who I am because of where and who I come from, and I'm more me today than I've ever been. I can't wait to unlock this next chapter with you."
Joey Moi produced the EP that includes a duet with Lainey Wilson and songs written by fellow artists Cole Swindell, Ella Langley and Luke Bryan.
Alaina said working with Moi was "life-changing."
"I'm always really proud of my music, and I always feel like I say the new project is the best project," she told CMT. "But this one's just really different and refreshing and feels like it represents me as a woman and a new sound in general."
Songs on her new EP include: "A Walk In The Bar"; "Don't Judge A Woman"; "Thicc As Thieves" (feat. Lainey Wilson) and "Like Her."
"It's a whole lot more country," Alaina explained. "I mean, it's not like Jon Pardi country. We got steel guitars. We have a lot of that kind of stuff."
She said, "A Walk In the Bar" is the closest bridge to what she's done in the past.
"I've always kind of leaned a little bit like pop country and power ballads," she said. "These are very different. It's more acoustic-driven."
And she said the music sounds like her hometown. But what Alaina is really saying is she had time to spend in her hometown of Rossville, Ga., and the music she made reflects the woman she remembered she is.
"I don't ever feel like I got away from myself because I'm pretty comfortable in who I am," she said. "I've always run after that and tried to be like the best version of myself. But I feel like I'm recording and writing music now that my big brother will be like, 'Sis, that's really cool.' It's a little more indicative of the person, the girl from Rossville, Georgia, in some ways."
Alaina wrote "A Walk In The Bar," but someone else penned "Don't Judge a Woman" and "Like Her." However, she said they're so close to who she is that she feels like she could have written them. She wouldn't have recorded the songs otherwise.
"Both of those feel very true to something I would say," she said. "I'm very intentional with the outside songs, but I've cut quite a few for this new project. I feel really encouraged by the community in general. I think the change got everybody really excited to create with me again."
Since she and Hardy released "One Beer" through her new label Big Loud and the song went to No. 1, she feels encouraged for the future.
"We got a pretty good one out of one," she said. "We've already done it. I could not be more excited."
A Walk In The Bar (Lauren Alaina, Casey Brown, Lydia Vaughan, Parker Welling)
Hangovers (John Byron, Greylan James, Josh Osborne, Matt Roy)
Don't Judge A Woman (Autumn McEntire, Joybeth Taylor, Sarah Allison Turner)
Smaller The Town (Zach Crowell, Joel Hutsell, Cole Swindell, Hunter Phelps)
Like Her (Trannie Anderson, Joe Fox, Emily Landis, Ella Langley)
Thicc As Thieves (feat. Lainey Wilson) (Lauren Alaina, Rocky Block, Luke Bryan, Dallas Davidson, Jacob Durrett, Parker Welling)
All songs produced by Joey Moi