Morgan Wallen Tops Country Airplay Chart with "Up Down"
Jason Aldean's 'Rearview Town' Is Back as No. 1 Album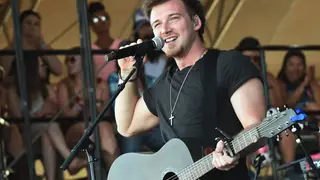 All hail Morgan Wallen, whose "Up Down" arrives as his first No. 1 single on Billboard's country airplay chart after a 32-week ascent. Sharing his victory are the guys from Florida Georgia Line, who vocally assisted him on the record.
Meanwhile, Jason Aldean can't seem to shake that Rearview Town he's fleeing. This week, the collection of that title bounces back to the top of the country albums chart, where it debuted 10 weeks ago.
As far as new music goes, the charts are pretty barren this time around -- no new albums and only two new songs.
However, seven albums return to action. They are The Essential Alan Jackson (back at No. 27), Elvis Presley's Elv1s: 30 #1 Hits (No. 32), Songs You Know by Heart: Jimmy Buffett's Greatest Hit(s) (No. 35).
Also, George Strait's 50 Number Ones (No. 45), John Prine's The Tree of Forgiveness (No. 46), Rascal Flatts' Greatest Hits Volume 1 (No. 48) and Aldean's My Kinda Party (No. 49).
The new songs are Garth Brooks' "All Day Long" (premiering at No. 21) and Carlton Anderson's "Drop Everything" (No. 59).
Lining up in descending order behind Rearview Town in the Top 5 albums parade are Luke Combs' This One's for You, Dierks Bentley's The Mountain (last week's No. 1), Kane Brown and Chris Stapleton's Traveller.
The No. 2 through No. 5 songs are Dan + Shay's "Tequila," Blake Shelton's "I Lived It," Combs' "One Number Away" and Kenny Chesney's "Get Along."
Last week's top song -- David Lee Murphy and Chesney's "Everything's Gonna Be Alright" -- now resides at No. 6.