Jelly Roll Talks Music, Touring and Charity: "The plans I have for giving back haven't even scratched the surface"
Jelly Roll just logged his second No. 1 song with "Need a Favor" and is in the midst of his largest headlining tour to date.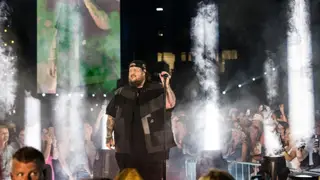 Jelly Roll sold out Nashville's Bridgestone Arena in December, standing on stage in awe and wiping tears from his eyes as 15,000 fans wildly applauded as he soaked in the moment. A few months later, he was overcome with emotion again when he won three trophies at the CMT Awards.
"It's like the whole country music community was behind me," an emotional Jelly Roll said backstage at the awards show. "It felt like I looked up, and all I saw was support."
Carrie Underwood and Shania Twain both stopped him to chat – experiences he called "just unreal." Then in May, Jelly Roll and his daughter Bailee strolled into opening night at Garth Brooks' Las Vegas residency at Caesar's Palace like any other fans. When the patrons gasped and cheered, Jelly Roll thought it was because they saw someone famous. The idea never occurred to the singer the famous person was him.
"I looked around to see what they were excited about," Jelly Roll said at Brooks' afterparty. "I think because (my career) took so long and this is so new, I'm just not used to it."
He released his debut country album "Whitsitt Chapel" in June, and now thousands more fans are lining up to see him on his 44-date Backroad Baptism Tour. The tour launched in Southaven, Mississippi, last month.
"I can tell you, if you're a day-one Jelly Roll fan, you're not gonna leave disappointed," he promised. "If you just found out who I was ... and bought a ticket, you're not gonna be disappointed."
The tour visits some of the largest venues in Georgia, Alabama, New York, Massachusetts, Maine, New Hampshire and Connecticut along the way. Ashley McBryde, Elle King, Chase Rice, Struggle Jennings, Yelawolf and 3 Six Mafia will provide tour support on select dates.
"I love Jelly so much," King told CMT. "He is genuinely one of the sweetest and kindest people ever, and I'm so happy to watch his success completely soar and touch the lives of others. I feel lucky that I get to be included on such a badass tour."
McBryde told Taste of Country that she hopes the tour leads to a collaboration with Jelly Roll.
"We've been making stuff up together, so we'll see how that goes," she said.
The week before Backroad Baptism launched, Jelly Roll called CMT and then took a minute to check his phone mid-conversation. After searching the screen for the information, he reported that he had sold more than 550,000 tickets to date. The singer wasn't sure he could say the number out loud, but he did anyway. Sometimes when Jelly Roll talks about something – like his Backroad Baptism Tour – so much he can become detached and forget that it's real. But seeing the sales number and going over budgets with his manager reinforced his new truth -- Backroad Baptism makes him a bonafide arena headliner.
"I went and seen eight buses," he exclaimed. "I saw eight wrapped semi-trailer trucks. It just instantly becomes different. You're like, 'Oh my God! I've been talking about this in such a casual way that I may have even forgotten how mega this is.'"
Jelly Roll, a Nashville-area native, marveled that he had crews working to button up the tour spread throughout Nashville and in Mississippi a week before its launch. He had a lighting crew at Bridgestone Arena. His band was rehearsing at a local rehearsal space. His video team was in Mississippi.
"You're like, 'Holy shit, this is huge, man,'" he said. "We've almost sold out. It's a half a million people. Less than half a million people lived in Nashville when I grew up. That'd be like the entire city of Nashville."
The audience is more than a sales number attached to bragging rights and a paycheck.
"It's a dream," he said. "That's 550,000 stories. That's 550,000 people that felt impacted enough by me that they not only bought a ticket, they found a babysitter, and they drove to the show. They overpaid for parking. They paid too much for drinking. People probably drove in from hours outside of these towns. That's somebody's wife's getting ready for date night."
Last week, he turned the spotlight on his record label, Broken Bow, when he surprised everyone at the label and the publishing company by bussing them to his concert in Huntsville, Alabama. He got them personalized merchandise, made sure they were fed and that they knew how much he appreciated them.
"I always say, the biggest common denominator of Country artists who play amphitheaters and arenas, other than their talent, is they treat their partners in business and their teams the same way or better when they make it to that level, as they did when they played small clubs," said BBRMG head Jon Loba. "Jelly has created one of the best backstage experiences for partners I've ever seen. In typical Jelly fashion, he treated us like Kings and Queens the entire night …(even) stopping his entire show in the middle of his set to thank all of us in front of the sold-out crowd. With every success during this meteoric rise, he gets more thankful and appreciative of those around him … and it's another reason he will play arenas and stadiums for as long as he wants."
In addition, to hosting his label representatives on the road, Jelly Roll crossed another career milestone off his list. He just logged his second consecutive No. 1 radio single "Need A Favor." The song is the follow-up to his debut country hit "Son of A Sinner."
"I heard the word soft hit at a producer's house recently," he said. "I don't know what a soft hit is exactly, but I know "Need a Favor" is the opposite of that. That song has transcended every dream I could have had."
Jelly Roll's life today is a far cry from the singer's storied history with the Nashville justice system. When he was 16 years old, Jelly Roll (real name Jason DeFord) was arrested for aggravated robbery. He knows it was a terrible crime and is thankful no one was hurt. He was charged as an adult and, at one point, was faced with a 20-year prison sentence – four years longer than he'd been alive.
"I never want to overlook the fact that it was a heinous crime," he told Billboard. "This is a grown man looking back at a 16-year-old kid that made the worst decision that he could have made in life, and people could have got hurt and, by the grace of God, thankfully, nobody did."
He also expressed a lingering bitterness over how the judicial system offered him so few opportunities for rehabilitation, despite his young age. He ultimately served over a year of the 20-year sentence for the charge, followed by more than seven years of probation.
"I hadn't hit my last growth spurt," said the singer. "I was charged as an adult years before I could buy a beer, lease an apartment, get a pack of cigarettes … I feel like the justice system at that point kind of parked me on my only set path."
Because Tennessee has a zero-tolerance policy for violent offenders, the charge is still on Jelly Roll's record. The repercussions still mean he can't vote, volunteer at most nonprofits or own a gun. He couldn't get a passport until recently and wasn't permitted to buy a home in his neighborhood of choice.
"Imagine changing your life in such a way that you can afford the kind of house in this community I was looking at," he told Billboard. "My money was welcome, but I wasn't, all because of something I did [almost] 24 years ago."
However, he is dedicated to giving back. From starting a food truck that only employs people with similar life experiences to his own to visiting terminal cancer patients, Jelly Roll has earned the reputation of having one of the biggest hearts in country music.
And he's just getting started.
"Just trying to be a man of service," Jelly Roll said. "The plans I have for giving back haven't even scratched the surface on what I plan on doing in the next five years. We'll talk on the phone five years from now, and we'll laugh about how small potatoes this was."
In five years, Jelly Roll hopes to have just opened his fifth group home.
"That's my dream," he said. "My father always told me, 'A smart man will learn from his mistakes. A wise man will learn from the mistakes of others. And I hope to give people wisdom."