UPDATE: Country Artists Devastated By Deadly Nashville Tornadoes Overnight
Stars Share Thoughts and Prayers After Tragedy Claims 25 Lives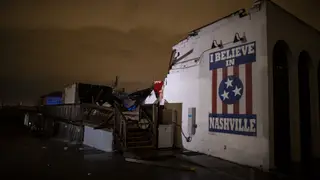 Editor's note: This story will be updated as more news becomes available.
As the country music community woke up on Tuesday morning (March 3), they started their day with the devastating news that several tornadoes touched down overnight near and in downtown Nashville. According to CBS Evening News, at least 25 people have died, 160 were injured, and several others are still missing. Tennessee is now under a state of emergency.
Country artists are sharing their thoughts and prayers on social media.
And Carrie Underwood, who was in New York doing interviews for her new book, told NBC, "I'm texting people I know. Mike said he had to go upstairs at 2am and grab the boys to take them down to a little safe room in our house. I bet everybody was crying."
The Nashville Metro Police have reported that so far, at least 40 buildings have collapsed around the city, with the East Nashville and Germantown neighborhoods being hit the hardest.
Several businesses in Nashville -- the Bridgestone Arena, the Centennial Sportsplex, Edley's Bar-B-Que East, the Grilled Cheeserie Food Truck (at Hunters Station), and the Dive Motel -- have opened their doors for people who need power, pizza, BBQ, grilled cheese sandwiches or a place to meet with family, friends and neighbors.
From all of us at CMT, our hearts are with our friends and neighbors affected by the recent storms in Tennessee. To make a donation, click here. Recovery is a long process and your donation can provide warm meals, shelter, and hope to communities in need. Please give what you can.