Thomas Rhett Scores 20th Career No. 1 Hit In Less Than A Decade: "This Is Insane"
Thomas Rhett: "This milestone occurring on a week of gratitude couldn't be more fitting."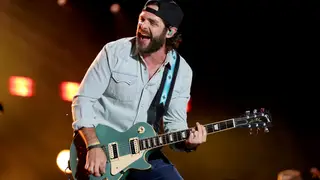 Country music sensation Thomas Rhett has 20 reasons to raise a glass of bubbly. 
The multi-platinum artist earned his 20th No.1 with his current single "Half Of Me" featuring Riley Green. This serves as a significant milestone for the country hitmaker, as he collected 20 No.1 songs in less than a decade. The song graced the top of the Billboard chart and became the longest active consecutive No.1 on the Country Aircheck chart. 
On the heels of scoring his 19th career No.1 with "Slow Down Summer," Rhett sent "Half Of Me" to Country Radio. Rhett co-wrote the chart-topping hit alongside his father, Rhett Akins, Will Bundy, and  Josh Thompson.
The playful single delivers a narrative about a man who would rather sip on a cold beer, than check boxes off a long-running to-do list. The relatable track lives on Rhett's sixth studio album, "Where We Started," the critically acclaimed collection that includes – "Church Boots," "Angels," "Death Row," and more. 
"20 No. Ones in 10 years is mind-blowing," shared Rhett in a press release. "The support since 2012 by radio, songwriters, my team, and all the fans has been incredible. This is insane, and I'm so grateful for this wild ride! I can't wait to see what the next decade has in store."
The crooner turned to social media (Nov. 21) to express his gratitude and a slideshow that takes a look back at his successful run, starting with his 2013 hit "It Goes Like This." 
"#HalfOfMe officially makes 20  number ones as an artist in 10 years. This milestone occurring on a week of gratitude couldn't be more fitting," he wrote in the caption. "There's so much to be thankful for this year. I'm just absolutely humbled and floored. And I have a feeling the next decade is going to be even better 🙌," he added. 
He encouraged his devoted fan base to share their favorite track throughout the years in the comments. 
"It's hard to pick! Love them all," gushed a follower. "Not sure I have a favorite. Each one brings something different," said another. "Freaking Awesome," added Conner Smith. 
Following "It Goes Like This," Rhett released a string of record-breaking hits, including "Die e A Happy Man," "Craving You" with Maren Morris, "Beer Can't Fix" featuring  Jon Pardi, and "Be A  light" with Hillary Scott, legend Reba McEntire, Chris Tomlin, and Keith Urban. 
The award-winning vocalist recently wrapped up his headlining Bring The Bar To You Tour with Parker McCollum and Conner Smith. The singer-songwriter won't be pumping the breaks anytime soon. Come May of 2023, Rhett will hit the road with Cole Swindell and Nate Smith for his Home Team Tour. 
 "Being on the road is one of my favorite places to be," shared Rhett. "I can't wait to see the joy on y'alls faces next year and with my buddies Cole Swindell and Nate Smith. We're definitely gonna have a good time."
Rhett will kick off the run in Canada on May 4 and will wrap at Nashville's Bridgestone Arena in September. Before attending the high-energy show, check out Rhett's biggest hits below. 
The Full List of Thomas Rhett's 20 No. 1Hits
8. "Craving You" featuring Maren Morris
13. "Look What God Gave Her"
17. "What's Your Country Song"