CMT ARTISTS OF THE YEAR: (WATCH) Riley Green Honors Luke Combs with "The Kind of Love We Make"
CMT Artists of the Year airs 9p/8 p Friday on CMT. An immediate encore showing will follow at 11p/10c and on Sunday, October 16, at 8p/7c.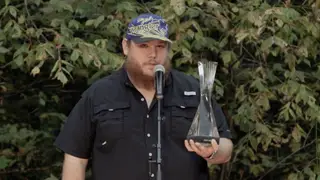 While Luke Combs is one of CMT's 2022 Artists of the Year, he couldn't attend the ceremony this week because he was attending a fundraiser at Dale Earnhardt Jr.'s house. But that didn't stop CMT from celebrating his accomplishments. Riley Green stepped up to perform "The Kind of Love We Make" during the ceremony, and Earnhardt popped in via recorded message to present Combs with the honor.
"I'm such a fan of Luke, and I'm going on the stadium tour with him next year," Green said. "I've been listening to his music for a long time, and it's such an opportunity for me to be able to showcase in his stead. I hope I can do him justice."
Combs is in stellar company. The other Artists of the Year include Carly Pearce, Kane Brown, Cody Johnson and Walker Hayes. Alan Jackson is named Artist of the Lifetime, and Lainey Wilson is Breakout Artist of the Year.
 "It's awesome," Combs said of the recognition. "You know, always fun and always amazing, you know? I mean, I don't think anybody would say anything other than that. I mean, I think being one Artist of the Year is pretty damn cool."
Next year is shaping up to be stronger than 2022. Combs is going to tour in 16 countries and play and 15 stadiums in the United States. 
"It's a lot of places we've never been," he said. "Being able to bring music to folks who have never seen us or seen a country show at all because no one has ever been there, I think it's an exciting prospect."
Combs released his third studio album, "Growin' Up," over the summer, and he said he named it that because he feels like it's a reflection of what's going on in his life.
"I feel like that's what will happen," he said. "I'm kind of in between being a kid and being a man in a lot of ways. Nicole just had our first kid. Changing diapers and cooking breakfast that's what I'm doing. Or writing songs, this is my job, and I love doing it, but my day-to-day, my No. 1 priority is being the best husband and dad I can."