Stephanie Quayle Stuns in "If I Was a Cowboy"
See the CMT World Premiere of Quayle's Cinematic New Video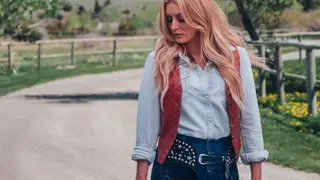 Everything about Stephanie Quayle's new music video for "If I Was a Cowboy" is breathtaking.
Set on her ranch in stunning Paradise Valley, Montana, Quayle's compelling performance enchants with her signature vibrato, a powerful lonesome whistle and cinematic filmmaking by director Jeff Johnson. Quayle plays the video's heroine in the piece, which follows her living the cowboy way life on her own terms. When her love interest leaves her for another, she doesn't wallow in the heartache he left behind. Instead, she blows it all up in the dust from her horse's galloping hooves while setting off into the sunset for life's next adventure.
It captures Quayle's fiercely independent spirit perfectly as an individual who has always dedicated her life to leading by example.
"The first time I heard the title of 'If I Was a Cowboy,' I was all in," Quayle tells CMT.com. "As a songwriter, I need to really connect with a song I didn't write. It was as if Nicolle [Galyon], Shane [McAnally] and Ross [Copperman] were in my head. I have lived these words, almost verbatim. There's such a juxtaposition of the emotional vulnerability in the lyric to the strength of the cowboy state of mind. This song came together in the studio in a way I've never experienced. When the baritone guitar rolled in, I heard my 'sound' come through the speakers that I've always desired as an artist."
"If I Was a Cowboy" is the first release from an upcoming EP of the same title, which is expected in October.
A member of the CMT Next Women of Country program, Quayle is always on tour. Her next Nashville show is an Aug. 17 performance at the Grand Ole Opry.
CMT.com: What do you hope is the big emotional takeaway fans feel after watching "If I Was a Cowboy?"
Quayle: Strength. Put your "hat" on and ride off into your own sunset. That whatever has a hold of you can let loose, and you can live fully in that "cowboy state of mind" -- feel it, work through it and move on.
Tell me everything about your rodeo background. Were there any cool opportunities in your experience in the sport that helped women thrive beyond the activity?
I remember meeting one of the top barrel racers Lisa Anderson and had the opportunity to learn from her. So much grit and determination. It's an edge that doesn't happen overnight. It's a marathon, not a sprint. Like in anything, those lessons translate off the field and into our daily lives.
How many young musicians have told you they picked up an instrument because of you?
Almost every show I meet a young musician just starting out on their own musical journey. There's an exchange that happens where they see that this is possible. The best part of my job is paying forward "possibility" -- that pursuing a dream is within reach and is possible. When they ask me what to do, I say do! Play more, write more, and don't stop. If this is a must, you will live your must.
Who were some of the first men to believe in you and change your life forever?
My father and my grandfather. My dad is a risk taker, possibility thinker and entrepreneur. Just when I think I've seen it all, he reinvents himself. He taught me to lead with joy -- his laughter is one my favorite sounds.
My grandpa led with extraordinary grace and kindness. He was in politics but was always about the person. He was so giving to those in need from missionaries to statesmen. When I was a little, he would let me put rollers in his hair. I would grab his black comb from his front shirt pocket and comb his hair forward and back. Always smiling and loving.
They taught me how to live with purpose and empowered me to pursue my own "must."