CMT Celebrates Pride, Country Music's LGBTQ+ Community
CMT to Stream Concert for Love & Acceptance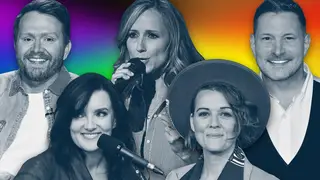 Editor's Note: On June 30, CMT will stream the Concert for Love & Acceptance, hosted by Cody Alan, Kristin Chenoweth, and Ty Herndon. The stream will begin at 7 pm ET/6 pm CT.
If you're curious about country music's gay presence, look behind the scenes, where multiple managers, executives and songwriters represent the LGBTQ+ community with pride. While there hasn't yet been a country artist to come out while still on the charts, gay and lesbian performers have already been part of the fabric of country music for decades.
One of the most promiment Music Row figures right now is Shane McAnally, who attempted a career as a recording artist while closeted. But as a songwriter and producer, his career has exploded thanks to his work with Midland, Kacey Musgraves, and Old Dominion. He's gained a profile beyond Nashville as well due to his involvement with the NBC series, Songland.
McAnally co-wrote the award-winning "Follow Your Arrow" with Kacey Musgraves, who recorded it, and good friend Brandy Clark, who is also part of the LGBTQ+ community. Clark's newest album, Your Life Is a Record, dives into the emotions that come with the end of a relationship -- something that any listener can relate to.
Though she's justifiably celebrated for quirky songs like "Stripes," she also possesses the ability to craft a major hit, such as The Band Perry's "Better Dig Two" and Miranda Lambert's "Mama's Broken Heart." Clark's own heartache song, "Can We Be Strangers Again," shows her gift for wordplay, as sad as the lyrics may be.
For fans of '90s country, Ty Herndon and Chely Wright are familiar names. Wright secured a No. 1 hit in 1999 with "Single White Female" and continues to record independently. She came out as a lesbian in her 2010 memoir, Like Me. She also returned to the Opry stage last year after a nine-year absence. Meanwhile, this year marks the 25th anniversary of Herndon's soaring No. 1 hit, "What Mattered Most," which he re-recorded with updated lyrics: "His eyes were blue, his hair was long..."
On the same day in 2014 that Ty Herndon came out as gay, so did his friend Billy Gilman. A platinum-selling artist as a kid, Gilman later competed on The Voice. Listeners from that era may also remember gay-friendly anthems such as Garth Brooks' "We Shall Be Free," as well as sensitive ballads like Dolly Parton's "Family," which had the lyric, "Some are preachers, some are gay..." Parton later landed an Oscar nomination for writing "Travelin' Thru" from the film Transamerica, which featured a transgender character in the lead role.
Brandi Carlile has been part of the greater country music family for long time now. Growing up, she often says, she considered Nashville as "the mothership." Her skill at writing a classic country song (with a twist) shines through in "If She Ever Leaves Me," from The Highwomen's self-titled debut last year. Carlile won a Grammy this year as a co-writer of Tanya Tucker's somber ballad, "Bring My Flowers Now." She appears on the video, playing piano.
Tucker and Carlile are among the most prominent members of the Americana and roots community, which has come to include an increasing number of LGBTQ+ artists, such as Mercy Bell, S.G. Goodman, Katie Pruitt, and Jaime Wyatt. All four of these women incorporate their queer perspectives into their songwriting, though their musical directions show their individuality.
An unexpected figure in the roots scene is Trixie Mattel, a drag performer who writes folk-country songs and plays autoharp (and also won RuPaul's Drag Race). There's also a mysterious figure named Orville Peck, whose music assumes a dramatic Western flair, and whose face and identity are obscured by a fringed mask and cowboy hat.
In 2018, fellow Canadian crooner k.d. lang picked up a 2018 Americana Trailblazer Award at the Ryman Auditorium; she came out in 1992, following her time as a major label country artist. Yet she was part of the Nashville scene just long enough to befriend Brenda Lee, Loretta Lynn, and Kitty Wells -- all of whom were produced by the great Owen Bradley -- and to record "Honky Tonk Angels Medley."
Waylon Payne, the son of country singer Sammi Smith and musician Jody Payne (from Willie Nelson's band) says he came out as gay at 18, at which point he was disowned, according to his interview with Garden & Gun. Payne's own story factors into his upcoming project, Blue Eyes, The Harlot, The Queer, The Pusher & Me.
A recording artist during the lush Nashville Sound era, Wilma Burgess may be considered country music's first openly gay artist. Working with producer Owen Bradley, she frequently recorded ambiguous, gender neutral songs, and even landed two Grammy nominations for 1965, including one for "Baby." Her recording of "Misty Blue" stands as a creative high point, too. After leaving the music industry, she opened Nashville's first women's bar.
In new documentary titled Invisible: Gay Women in Southern Music, songwriters such as Kye Fleming ("I Wouldn't Have Missed It For the World"), Jess Leary ("Where the Green Grass Grows"), and Mary Ann Kennedy and Pam Rose ("I'll Still Be Loving You") talk about what it was like to be a lesbian in the 1980s country music community. One of Nashville's most poetic and poignant songwriters, Mary Gauthier, appears in the film as well. Her signature song may be the compassionate anthem, "Mercy Now."
Nationally known radio hosts like Blair Garner and CMT's Cody Alan are also part of the LGBTQ+ community, while every branch of the music industry is represented in the LGBTQ+ family. For example, Jason Owen is a regular Billboard power player whose Sandbox Entertainment leads the careers of Kelsea Ballerini, Little Big Town, and Kacey Musgraves -- just three of the many country artists who have shown their support for Pride.
Last year, LGBTQ+ ally Jake Owen had a good time Googling "gayest" songs and then filmed his own rendition of Cher's "Believe." Same-sex couples are also part of the narrative in contemporary music videos like Brothers Osbornes' "Stay a Little Longer" and Ingrid Andress' "The Stranger."
Perhaps Jason Aldean said it best early in his career. Asked if any fans had ever come out to him, he told the Seattle Gay Times in 2009, "Not really, not that I can remember. If you're a fan, you're a fan. I don't care if you're black, white, gay, straight, whatever. If you're a fan, that's what matters. But to answer your question, I don't think I've had anybody come up and identify themselves (as gay). I meet people every day and treat them all the same, whatever they are."