Shania Twain Reveals "Next Chapter" With Upcoming Track "Waking Up Dreaming"
Shania Twain's new single "Waking Up Dreaming" will drop Friday, Sept. 23 – LET'S GO, GIRLS!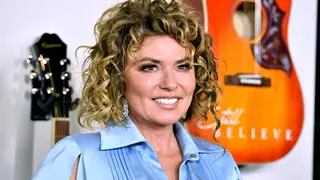 Shania Twain is flipping to the "next chapter" of her music career. 
The top-selling female country artist turned to social media late Monday (Sept. 19) evening to share that a new single called "Waking Up Dreaming" is on the horizon. The highly anticipated track is expected to drop on Friday, Sept. 23. 
Twain paired the exciting news with the cover art. The risqué snapshot features Twain shirtless covering her top half and sporting a white silk skirt. Her groovy multi-colored stiletto boots match perfectly with the title of the track printed in script across the photo. 
The hitmaker noted that she gets a familiar wave of adrenaline every time she announces new music to her devoted community. 
"Every time I get to announce something like this, I get such a rush of adrenaline and nerves – it never gets old…I am super excited to share with you that my new song 'Waking Up Dreaming' is coming out this Friday!!" Twain confirmed in the caption. "I've spent the last couple of years working away on new music… on my documentary…on the Vegas residency, and it's been such a creatively fulfilling time for me, I can't wait for this next chapter and Waking Up Dreaming is just the start," she added. 
While many country music fans flocked to the comments to speculate a new album, several others expressed their excitement for "Waking Up Dreaming." 
"I can barely wait for Friday without a rush of anxiety! Bring it on, @shaniatwain! I hope this new chapter and phase of your life brings all the greatest things there may be in the universe! I am sure there's some excellent music to be released on your next album! You're #StillTheOne," said a follower. "WE ARE READY," shared singer-songwriter Priyanka. "OMG Christmas is coming early this year," added another Instagram user. 
Twain teased a short snippet of the high-tempo track on TikTok to build positive momentum before the launch. The video reveals the empowering chorus about breaking down obstacles and the electrifying instrumentals that compliments her powerhouse country-pop vocals. 
"No we won't stop at the ceiling | So let's keep waking up dreaming," belts the trailblazer alongside old-school footage of her dominating the stage. 
"Waking Up Dreaming" follows "Not Just A Girl," which was released in July and lives on her Netflix documentary album "Not Just A Girl (The Highlights)." Twain recently received the Poet's Award at the 15th Annual ACM Honors at Nashville's legendary Ryman Auditorium. The new single does come as a surprise, as Twain left a cryptic easter egg following her acceptance speech. 
"Are you ready to hear some more of my songwriting skills?😉" she wrote on social media. 
Until fans can listen to "Waking Up Dreaming" on repeat, they can catch the multifaceted artist on the next episode of "Monarch" tonight, Sept. 20, at 8 p.m. on FOX.