UPDATE: Country Stars Share Their Own Charlie Daniels Memories and Moments
"The Country Music Flag Is Flying at Half Mast Today," Luke Combs Says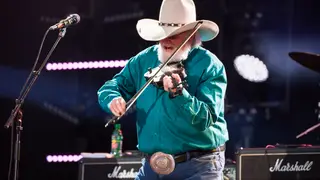 Once the news of the death of country music's legendary songwriter, singer and multi-instrumentalist Charlie Daniels was out, the country community came out in full force to share their memories of the man who meant so much to so many.
Travis Tritt posted a picture that speaks volumes about his love for Daniels. "My heart is crushed today after hearing that my dear friend Charlie Daniels has passed away. Charlie was the first legendary artist to take me under his wing and encourage me when I was first getting started in the business. He was always there for me when I needed him. I have so many great memories of touring, performing, writing and recording with Charlie, but my favorite memories are of simply talking with the man when it was just the two of us alone," Tritt wrote. "Farewell dear friend until we meet again. Thank you for being such a friend, mentor and inspiration to me. I will always be grateful."
And even for newcomer Luke Combs, the country great's passing has hit him hard.
Other country artists who have been mourning Daniels all day and all night on social media:
Runaway June's Natalie Stovall
Stuart was one of Daniels' collaborators on the sequel to 1979's "The Devil Went Down to Georgia," when they teamed up with Johnny Cash, Mark O'Connor and Tritt for "The Devil Comes Back to Georgia" in 1993.
And McGraw also shared one of his favorite songs from Daniels, saying, "The word 'legend' gets tossed around so easily these days, but not in this case... he was #BeyondLegendary. This is one of my absolute favorites... 'The Legend of Wooly Swamp'."