CMT Premiere: Jelly Roll Drops Live Video For "Need A Favor"
Jelly Roll headlined Nashville's Bridgestone Arena in December and incorporated a choir of special guests for his "Need A Favor" video.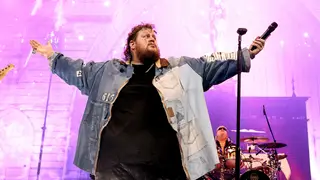 When 15,000 Jelly Roll fans watched him close his soldout Dec. 9 show at Bridgestone Arena in Nashville with "Need A Favor" alongside the famed Fisk Jubilee Singers, they didn't know they were watching a video being filmed. They just felt like they had been transported to church.
Today Jelly Roll shared the emotional and soaring clip with the world alongside his debut country album "Whitsitt Chapel," which is home to "Need A Favor" and his Lainey Wilson duet "Save Me." Jelly Roll, who grew up in Antioch, Tennessee, near Nashville, named his album after his childhood church. And he brings listeners to Sunday service with "Need A Favor" – on the album and in the video.
Jelly Roll wrote "Need A Favor" alongside Austin Nivarel, Joe Ragosta and Rob Ragosta. Zach Crowell produced the song. Nate Fountain directed the music video, and Marie-Christine Dufort produced it.
"It's in front of a live audience, and you get to feel the energy of the crowd and what we get to see every night on the road," Jelly Roll explained. "We're ready to get back out there with our Backroad Baptism Tour and get to really play the full record in front of a live audience for the first time."
He said selling out Bridgestone Arena was "unbelievable," and he hopes the video will make people want to come to the show and sing the song back to him on the road this summer.
One of his favorite moments of the video experience was watching its premiere on the billboard in Times Square outside of "Good Morning America."
"I got to have my daughter, Bailee Ann, with me, and it's her first time in New York, so this is an incredible moment to share with her," he said.
Jelly Roll is a CMT Award winner who has amassed more than 4 billion career streams to date. He scored his first No. 1 on country radio charts with his first country single, "Son Of A Sinner." Now that "Whitsitt Chapel" is out, the genre-jumping singer will head out on his 44-city Backroad Baptism Tour, which launches July 28.
If his touring show is anything like the Nashville concert where he filmed his "Need a Favor" video, fans are in for an unforgettable night. Jelly Roll oozes attitude and gratitude from the stage as he bounces between genres and returns all the energy the audience gives him in spades.
And he hopes to direct all of them to his hometown church "Whitsitt Chapel" should they ever be in Nashville – which is why he named his album after the church.
"It's a conceptual record," he explained of the collaboration. "I'm still a romantic when it comes to that. I'm still old school. I love albums."
He hopes the album makes the church a destination.
"Listen man, if I'm getting people to go to the church, I'm doing something right," he said. "I don't care if it's to take a picture or not. Boy, I did something right."