Jelly Roll Shares Story Behind Lainey Wilson Duet "Save Me"
Jelly Roll: "I think it was special that I was the guy that got to show the world that side of Lainey."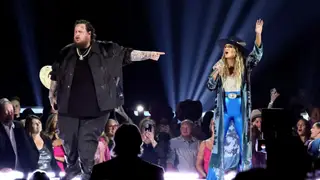 Jelly Roll and Lainey Wilson are more than just duet partners – they're the best of friends. Wilson joined Jelly Roll to collaborate on his hit "Save Me," a version included on his debut country album "Whitsitt Chapel," which is available now.
Jelly Roll had a vision for a duet on the song he shared with his record label head, Jon Loba, in 2020 – he wanted a superstar to join him. The singer said Loba stayed true to his word when he paired him with Wilson, although it was the most natural meeting either could imagine.
"The obvious is Lainey is one of my best friends in the music business," Jelly Roll said. "You know, Lainey, Ernest, everybody knows my little squad. You know what I mean? These are the people I talked to pretty religiously. And, I think it was special that I was the guy that got to show the world that side of Lainey."
He explained it was meaningful Wilson was willing to join him even though she was a much bigger star than he was at the time. And he takes great pride in showcasing another element of her artistry.
"I got to show y'all a trick y'all didn't know she could do," he said. "You know what I'm saying?"
While Jelly Roll was always pleased with the result, his stylist, Krista, made him think about the collaboration differently.
"She said, 'I've loved "Save Me" from the first time I heard it, but I never felt it the way I felt it coming until I heard it coming from a woman's perspective,'" Jelly Roll said. "I think that's what made this such a beautiful marriage for me. She's been through some shit down there in Louisiana, too, you know?"
Jelly Roll said singing with Wilson on "Save Me" is a "dream come true."
Now, the Antioch native is in the midst of his 44-date Backroad Baptism Tour, which launched in Southaven, Mississippi, last month. More than 20,000 fans routinely come out to see him play, and the singer loves every minute.
"I can tell you, if you're a day-one Jelly Roll fan, you're not gonna leave disappointed," he promised. "If you just found out who I was ... and bought a ticket, you're not gonna be disappointed."
The tour sold more than half a million tickets before Jelly Roll stepped on the first stage, and it visits some of the largest venues in Georgia, Alabama, New York, Massachusetts, Maine, New Hampshire, Connecticut and more. Ashley McBryde, Elle King, Chase Rice, Struggle Jennings, Yelawolf, and 3 Six Mafia will provide tour support on select dates.
"You're like, 'Holy shit, this is huge, man,'" he said. "We've almost sold out. It's a half a million people. Less than half a million people lived in Nashville when I grew up. That'd be like the entire city of Nashville."
The audience is more than a sales number attached to bragging rights and a paycheck.
"It's a dream," he said. "That's 550,000 stories. That's 550,000 people who felt impacted enough by me that they not only bought a ticket, they found a babysitter and they drove to the show. They overpaid for parking. They paid too much for drinking. People probably drove in from hours outside of these towns. That's somebody's wife's getting ready for date night."